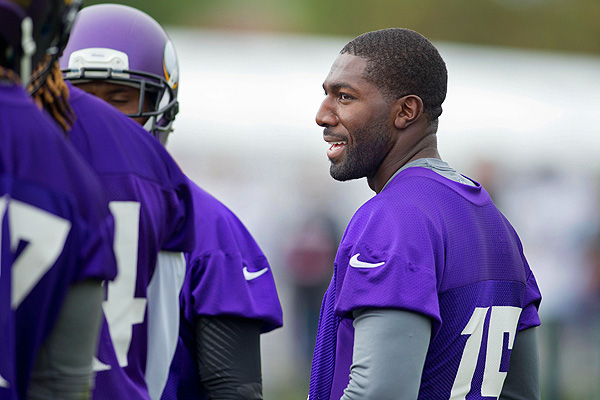 Daniel House explains the one way Greg Jennings can prevent the current scrutiny he is facing in the media. He explains this and more in his latest post.
The Vikings decided to upgrade their receiving corps by adding a premier wide receiver in free agency. They did this through snatching him away from the arch rival Packers, who decided to part ways from the seven year veteran.
Jennings was never placed in the ideal scenario to become an elite target. He was constantly labeled the predecessor to the other cast of characters in Green Bay. With no James Jones, Jordy Nelson, or Randall Cobb to battle with, Greg finally has the chance to not only play Green Bay twice a year, but the opportunity to be an elite receiver.
He has answered the countless questions about whether he misses Aaron Rodgers and why he decided to join a team with quarterback uncertainty. Repeatedly, he has displayed faith in Christian Ponder and during an interview with ESPN First Take, Jennings asked host Stephen A. Smith (a Ponder pessimist) if he would like to have Christian on the show when the Vikings win the Super Bowl.
Although Jennings hasn't been the most fluent in handling questions about Packers quarterback Aaron Rodgers, he is simply taking a friendly stab at a division rival; something that happens frequently in this league. The reason why this is placed under the microscope, is due to the transition between rival organizations. If he played for the Baltimore Ravens and went to the Cleveland Browns, while expressing similar comments, it wouldn't have blown out of context.
In one of his comments regarding Aaron Rodgers, he referenced his displeasure with the way he handles himself amongst the team.
"Don't get me wrong, '12' [A. Rodgers] is a great person," Jennings stated. "But when you hear all positives, all positives, all positives all the time, it's hard for you to sit down when one of your teammates says, 'Man, come on, you've got to hold yourself accountable for this.' It's hard for someone to see that now because all they've heard is, 'I'm doing it the right way, I'm perfect.' In actuality, we all have flaws."
How do we know the way Aaron Rodgers handled himself? In all honesty, this could be an accurate statement.
Coach Frazier firmly stepped into the middle of this situation and when asked why he got involved, he expressed the values he instills in this group of people. He wants complete focus on football and needs Jennings to focus on being in the new colors; not about his past.
Despite the "so-called" gag order, his comments were taken out of context once again. In an interview with KFAN radio, Jennings discussed how the Packers 'brainwashed' him when it came to how NFC North teams were understood.
When asked whether the Vikings have championship qualities, Jennings said: "One of the things that drew me to coming over here was the makeup of the team. When I came over here, I was kind of brainwashed. There's no 'kind of' to it. Being over in Green Bay, you're brainwashed to think anyone in the division is tiers below."
This was misinterpreted and he simply was discussing the way rivalries work in the league. You have to believe there is a certain level of animosity between Jennings and Green Bay, but he never in any way attacked the organization. He simply discussed the way the team operates and how it influenced his decision to join the Vikings.
In a world where we as media members relay information, each and every player is scrutinized nationally for comments that were misinterpreted. In no way was he trying to start something that could effect the way this team focuses in preparation for the 2013 season. He simply was relaying how he made his free agent decision.
Greg Jennings is an elite receiver and now that he has the opportunity to be the focal point of the offense, I look for him to be very successful. In practice he runs fluent routes, always gets open, and has the most reliable hands I have seen at training camp in a long time. Not only does he have ability, but he is a leader of this team.
During the start of individual drills, Jennings begins every session and injects leadership into each player participating in the positional work. On several occasions he stayed late to work on the field with Christian Ponder and during sessions he has provided him with advice. He is constantly talking to him about ways he can improve, which is very important. Christian has never had this type of mentorship from a wide receiver and I truly believe this could be the difference Ponder needs to take his game to the next level. He finally has a leader to throw the ball to, along with an impressive new set of wide receivers. This year he has the tools necessary to be consistently successful.
My final thoughts on Greg Jennings are clear and focused to his play each and every week. He can't let the past effect the way he plays Green Bay twice a year. Greg needs to perform on the field of play, which will alleviate the Green Bay questions. Finally, he can't let the media control the way his thoughts are portrayed. He needs to handle all of this business on the field and lead the team to the Meadowlands; which is something all Vikings fans desire.