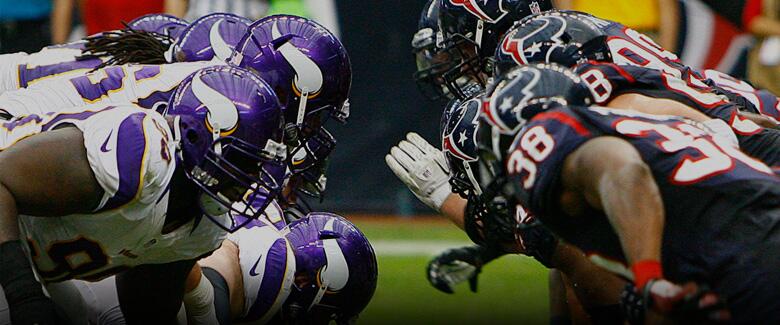 Daniel House highlights 10 'tantalizing talkers' to watch when the Vikings hit the field for their first preseason game on Friday vs. Houston.
Preseason is a crucial time where coaches analyze players searching for a place on the 53-man roster. With the new CBA, the walkthrough was added to the training camp practices, which eliminates a padded practice each day. As Coach Frazier has frequently discussed, this makes coaching decisions and personnel moves even more important. One excellent performance can excel you onto the roster, while a costly blunder can put a player on the free agent market. Tomorrow evening the players get to strap on the pads and hit another opponent for the first time. For many players, it will be one of the most important moments of their lives. With that, Daniel House lays out 10 'tantalizing talkers' for tomorrow evening's contest.
1. Bradley Randle- Randle, a 5'7" UNLV Rebel has been my guest for several interviews and has the mindset to be successful in this league. On multiple occasions, he has stressed the importance of pass protection in this league. To be a third down running back, you must have the tools from a running standpoint and the blocking skills to protect the quarterback from the blitz. In practice, Bradley has displayed a relentless motor, speed, and a fierce running style, which has made his presence noticed during practice sessions. The preseason is a key for Randle and if he can show that he has the ability, along with the superior athletic ability he has displayed, there is no doubt Randle could become the third running back.
2. Adam Thielen- Thielen a Minnesota State-Mankato product, has been one of the many pleasant surprises of Vikings training camp. Being a slot receiver, he has great hands, is excellent at finding space, and isn't afraid to stick his nose into the defensive back. The real issue for Thielen is the position group he is placed into. With 12 potential candidates to fill 5 or 6 spots, Adam will need to separate himself during the preseason games in order to find himself a spot in a crowded wide receiver group.
3. Stephen Burton- Burton has been with the team for three years, but has been under-the-radar at best during his time. Known for his run blocking abilities, the coaching staff has been waiting for him to develop into a dual-threat wide receiver. In order to find himself a place on the roster, he needs to show he has evolved as a pass catcher. This is especially important with players like Adam Thielen and Joe Webb clicking at his heels. In practice, Burton has been targeted frequently by Christian Ponder and has been running more fluent routes this year. During the scrimmage he struggled and dropped two critical passes during 7-on-7 drills. One thing is certain, Stephen Burton needs to show he has taken strides this offseason, to find himself a roster spot.
4. Audie Cole- Cole is returning for his second season with the team after an amazing preseason performance last year, that resulted in a spot on the 53-man roster. Audie separated himself in the preseason with interceptions, fumble recoveries, and great tackles. He is the perfect example of a player who made himself noticed in the preseason, which yielded a positive result in the ending. The Vikings drafted Michael Mauti to compete in the middle of the defense, which means Audie Cole will need to show he can produce. He has seen extended action with the first and second team nickel defense, which means they want to get a closer look at his talents.
5. Chase Ford- Ford has really stood out to me in practice, but the Vikings already have a plethora of tight ends with Rudolph, Carlson, and Ellison. Despite all of this, if he dazzles in the preseason, the Vikings may be able to find a way for him to slide on the roster, or the practice squad. He has a nice stature a 6'6", along with very good hands. I really like his ability to get open and shield the defense, which are two huge keys as a tight end.
6. Christian Ballard- Ballard is entering his third season in purple, which is a crucial time for his career path. The Vikings brought in Lawrence Jackson and George Johnson in the preseason, to add some experience to the defensive line. Christian was drafted with the thought of being Kevin Williams replacement after his contract expires. Obviously this plan changed when the Vikings decided to draft Sharrif Floyd this season. Ballard hasn't seen a huge role, but entered the games on third and long situations when the team needed an extra pass-rush. I firmly believe Ballard will need to have a fantastic preseason in order to make a roster with a plethora of depth on the defensive line. This needs to be his breakout season, or he could find himself on the free agent market very soon.
7. Gerald Hodges- The Vikings used a draft pick to solidify a weak outside linebacker position, which brought forth a ton of uncertainty heading into the draft. Desmond Bishop has been struggling with a groin injury he suffered in practice and will miss Friday's preseason game. Marvin Mitchell will assume the starting role, with Hodges being the backup on the outside of the defense. Hodges role could maximize if Bishop has more problems with injuries and the Vikings decide to part ways during roster cuts. During the time I was in Mankato, I was very impressed with Hodges' ball skills, coverage experience, and how sound he was in gap assignments. He was much more prepared to play than I first thought and provides a huge upgrade to a linebacker position that needed more depth.
8- Michael Mauti- Mauti was drafted in the seventh round of this season's draft, despite uncertainty surrounding an ACL tear he suffered during his senior season at Penn State. When I watched him practice, he seemed very healthy and wasn't afraid to get involved. I was very impressed with his knowledge of schemes and his ability to hit the gap and make the tackle. With the training staff we have in Minnesota, the injury isn't a factor, especially with Eric Sugarman's history in ACL recoveries. Tomorrow will be his first game action since his injury, which will require monitoring to see if he is at all tentative.
9. Brandan Bishop- Many of you probably haven't heard of this NC State safety named Brandan Bishop, who the Vikings pursued as an undrafted free agent. Many analysts graded Bishop in the middle rounds of this year's draft, but he slid out of the board and joined the Vikings moments after the picks concluded. He recorded several interceptions in camp and has very good ball skills. Being in a safety position with a millennium of instability, if Bishop can have a good preseason campaign, he could rattle the depth chart.
10. Jeff Locke- This will be Locke's first game action in the NFL and I will be interested to see if he can keep the 60-75 yard range he is been kicking during training camp. In addition, I can't wait to see how other returners handle the left-footed spin and Aussie style kicking mentality. Our returners struggled with this early in camp, so I expect some definite advantages in this aspect. From a holding standpoint, I want to see the strides Locke, Blair Walsh, and Cullen Loeffler have made in mechanical work. Walsh has struggled with accuracy, which can be somewhat attributed to adding a new holder into the equation. Yesterday, special teams coordinator Mike Priefer, was working with Locke on his hand placement during holds, which shows the concern in this avenue. I asked Locke about this and more in an interview embedded below.