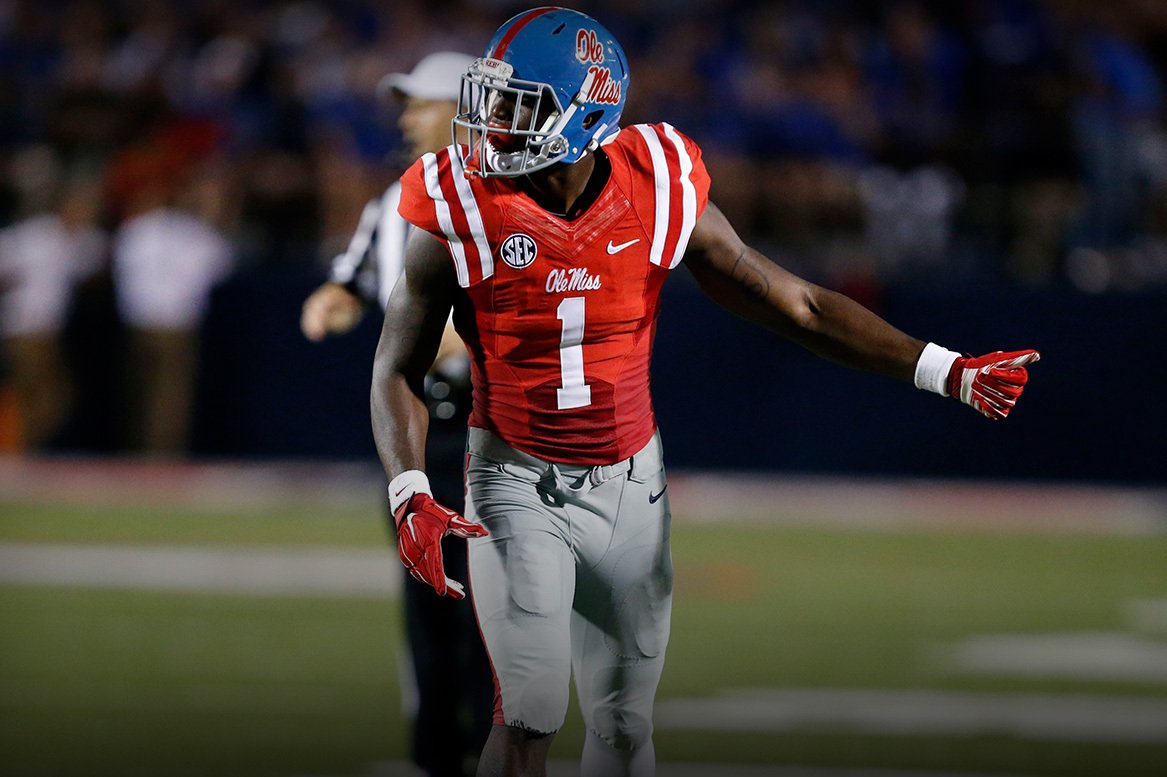 Photo Courtesy of Bleacher Report
Laquon Treadwell has handled adversity on his road to the Minnesota Vikings. His long journey back from a broken fibula in 2014 has him poised and ready to take the next step with the Minnesota Vikings.
Updated: April 29th, 2016 1:00am
The Vikings spent their first round draft pick to add Ole Miss wide receiver Laquon Treadwell. Treadwell, a 6'3" wide receiver, adds a game-changing playmaker to the Vikings' receiving corps. Treadwell is a player that can high-point the football and make tough contested catches. This type of skill-set is exactly what the Vikings coaching staff was searching for from a wide receiver.
Treadwell visited the Vikings during their top-30 week and had interactions with the Vikings' staff throughout the entire process. He was very impressed with the type of organization in Minnesota and is looking forward to his time in the Twin Cities.
"From the day I went and visited the Vikings; from the first time I got in and walked off the bus, I knew it was a first class organization," Treadwell said.
He had no idea that the Vikings would be his future home when he started this draft process months ago. Nonetheless, Treadwell believes this is the perfect opportunity for him to flourish at the next level.
"I'm just honored to be a part of the Minnesota organization. It's just an amazing experience, honestly. I was shocked, I just think I went to the right program," Treadwell said.
Treadwell already had a relationship with Vikings wide receiver Stefon Diggs before being selected by Minnesota. He said that they knew one another from playing football over the years. He said they've been in touch throughout this entire process.
"We talk all the time," Treadwell stated.
Treadwell is also looking forward to working with quarterback Teddy Bridgewater in 2016. He sees a very high amount of potential for Bridgewater's third year as a professional.
"It's a great opportunity. He's a great quarterback and I only think he's going to get better," Treadwell explained.
Head Coach Mike Zimmer and GM Rick Spielman both praised the competitive edge of Treadwell's game. When asked how he maintains that philosophy in his game, he referred to how he lives his life.
"Just my lifestyle. My struggles, my situations I go through," Treadwell added.
A heavy emphasis has been placed upon Laquon Treadwell's recovery from a broken fibula in 2014. It was a long and difficult road back for Treadwell who felt he wasn't at full strength until week five of last season at Ole Miss. The challenges he learned from that experience have made him stronger as a player and person. Treadwell didn't really feel comfortable with full contact until the later stages of his final season of college football.
"I was more mentally challenged than physically. I was stronger, I was faster, I was quicker, but I couldn't allow myself to play the way I wanted because I didn't get hit in the spring of the last season, so my first contact was in the game," Treadwell explained.
That battle was ongoing for Treadwell who felt he hasn't even reached his maximum potential on the field at this stage of his football career.
"It was just an overall battle for me the whole season. I got better week after week. About week five I took that leap and trusted myself and trusted my body to get hit and take those types of leaps," Treadwell reiterated.
What was the key to getting closer to full health? Treadwell credits the Ole Miss training staff, along with his family, and friends for their support. The therapy process was a long road, but it allowed him to continually make progress.
"Just treatment, therapy, taking care of my body. I was doing that the whole time, but over time I could see myself progressing and doing things I wasn't able to do before," Treadwell explained.
Part of that training plan was not eating breakfast until he completed his treatment and workouts. He used that as an incentive to improve each and every day. Treadwell wanted to get better and his own mental approach helped him in that process.
"I just told myself if I wasn't getting better, I wasn't going to eat. It wasn't as serious as it sounds. In the morning I would do something productive to help my body recover and then I would go eat breakfast and go to class," Treadwell noted.
Treadwell is the second youngest wide receiver in this class at 20 years old. He sees this as an opportunity to continue to grow his game. He is developing a vision for how he will look in the next three to four years on the field.
"I just continue to think, I'm just 20, what can I look like in the next three years, or four years, if I just keep working hard? That's all I did to get to this point. It's just my mindset going in," Treadwell said.
One of Treadwell's biggest attributes as a player is his run blocking. In fact, head coach Mike Zimmer called him the best run blocker he has ever seen. When Treadwell doesn't have the ball in his hands, he plays every snap hard. He doesn't take any moment for granted.
"That's what you're taught as a kid, play every snap like it's your last. I had to learn that the hard way from getting injured. Now I don't take the game for granted and I appreciate the littlest things and the littlest coaching points that I can get. Everything from being great, that's what I'm all about," Treadwell reiterated.
As for how he learned to become one of the best run blocking wide receivers in this class, Treadwell says it started in high school. However, much of this skill comes natural for him with his physical frame.
"I learned young and I learned that in high school, the technique of blocking and settling your feet and waiting for the defender and being two yards apart from him. I can't really describe it, it's really natural. I learned it and I stuck with it. I'm physical and can use it to my advantage," concluded Treadwell.
Laquon Treadwell is a very motivated and confident player that has responded well to a variety of challenges in his life.
His next challenge will be how he responds to this new beginning as a member of the NFL. If he has the similar drive and competitive edge, Laquon Treadwell has a chance to flourish in the Vikings' offense for seasons to come.
Note: Laquon Treadwell meets with the media tomorrow and I'll have more comments from him following the press conference