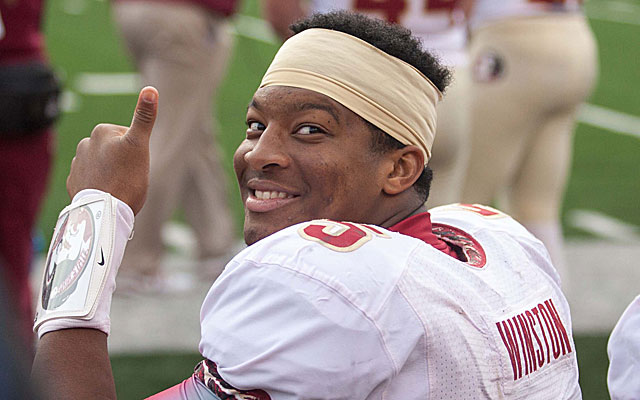 Daniel House unveils his second mock draft of the season. Who does he have your favorite team selecting?
Updated: March 22nd, 2015 6:00pm
The NFL draft is less than three weeks away and it is time to start projecting how the draft may shake out. I developed a mock draft that is realistic, but involves scenarios that could be considered unique in nature. Take a look throughout this piece, leave comments, or tweet analysis (@VikingsCorner, @DanielHouseNFL) on Twitter. I will be producing one more mock draft before the draft kicks off on April 30th!
1. Tampa Bay Buccaneers- Jameis Winston- QB- Florida State:
There is no doubt that the Bucs will be selecting a quarterback with this pick. The coaching staff would be excited to pair Winston with Mike Evans, which is one of the reasons why this pick makes sense. Winston may lack maturity, but his ceiling is very high if he can stay focused. From a standpoint of being most pro-ready, Winston has the edge over Oregon's Marcus Mariota. Winston helped himself at the combine and not only impressed on the field, but in the classroom. Teams are coming away impressed with his football IQ and that will only help him solidify his spot as the top player in this draft. If he can take his intelligence and pair it with his abilities, he can be a top-tier player in this league.
2. Tennessee Titans- Leonard Williams- DE/DT- USC:
Leonard Williams is just too much talent to pass up at this selection. The combination of Jurrell Casey and Leonard Williams would be a formidable duo in the AFC North. Not to mention, the Titans could start building their team on the defensive side of the ball. Marcus Mariota is who everyone believes Tennessee will select. First off, he doesn't fit Ken Whisenhunt's offense and the team has indicated on multiple occasions they would like to roll with Zach Mettenberger as their starter next season. Leonard Williams is a rare player with bundles of talent that could be a cornerstone of their defensive line for many seasons to come.
3. Jacksonville Jaguars- Dante Fowler Jr.- DE/OLB- Florida:
Many people believed that the Jaguars would be adding offensive line help in the draft this year. They signed Jeremy Parnell in free agency, which allows them the flexibility to continue developing their defensive line. Gus Bradley would love to add a player like Dante Fowler Jr. to a scheme that fits his skill-set very well. Fowler Jr. is fast and physical on the edge and is a very underrated prospect in this draft class. Fowler Jr. needs to get stronger to defend against runs at the next level, but he will cause havoc as a pass rusher. The Jaguars would be gaining a nice piece to pair with free agent signing Jared Odrick.
4. Oakland Raiders- Kevin White- WR- West Virginia:
The Raiders got a little bit of a bad draw and will miss out on Leonard Williams by just two picks. Oakland may look to bolster their defense with Ken Norton Jr. and Jack Del Rio on their coaching staff. However, they can't resist the temptation to select a rate playmaker like Kevin White. The Raiders want Derek Carr to have a weapon that he can turn to on a consistent basis. This is important for the growth of a young quarterback. A player like Kevin White can be a piece for an offensive coordinator to build upon for seasons to come.

5. Washington Redskins- Marcus Mariota- QB- Oregon:
The Redskins have openly admitted they don't like the thought of having Robert Griffin III as their main option at quarterback. Washington could make a splash while taking another shot at adding a franchise signal caller. Mariota would flourish with a coach like Jay Gruden and their GM indicated they would consider him at this selection. They could add defense or offensive line help, but they can't resist the temptation of potentially adding a franchise quarterback. If Mariota falls to the Redskins, don't be amazed if they pull the trigger.
6. New York Jets- Shane Ray- DE/OLB- Missouri:
Todd Bowles will be looking for as many defensive weapons as he can find. Shane Ray underwhelmed in his pro day, but as we have learned- those workouts are meaningless. The Jets signed a plethora of defensive backs, including Darrelle Revis and Antonio Cromartie to improve their pass defense. They also re-signed David Harris and tendered Damon Harrison. The only missing link appears to be an edge rusher for Bowles to play with. With this position group being the most premium in this draft, the Jets want to land one difference maker on the defensive side of the ball.
7. Chicago Bears- Danny Shelton- DT- Washington:
I spent a week in Chicago and after listening to the media and talking with others, it appears the Bears biggest need continues to be at defensive tackle. This intensified after we found out that Vic Fangio would be switching to a 3-4 scheme. Chicago needs to add a pure 3-4 nose tackle who can rush the passer and fill the gaps as a run defender. The most successful teams who run this scheme have elite level players in the middle of their defensive line. Shelton is athletic for his size and is very light on his feet for his stature. He is easily the best defensive tackle in this draft and by adding a talented player at a position of need, the Bears can start re-tooling their defense again.
8. Atlanta Falcons- Brandon Scherff- OG- Iowa:
The Falcons offensive line underperformed and the first line of business for offensive coordinator Kyle Shanahan will be to bolster this group. In his scheme, pass blocking is a premium. By adding an athletic specimen like Brandon Scherff, the Falcons can add another piece to their offensive line. They selected Jake Matthews last season and want to make their interior as solid as the exterior of their offensive front.
9. New York Giants- Amari Cooper- WR- Alabama:
The Giants want to continue developing their offensive attack and adding Amari Cooper is the most logical way to do this. The future of Victor Cruz is uncertain and the Giants need to add a reliable second receiver to pair with Odell Beckham Jr. Offensive line help is definitely necessary, but with Brandon Scherff off the board, the Giants are going to take the best player available. Just imagine an offense with talented athletes like Beckham Jr. and Cooper.
10. St. Louis Rams- Andrus Peat- OT- Stanford:
The Rams drafted Greg Robinson to build their offensive line last year, but they still have holes off the edge of their front-five. Tackle Jake Long's health warranted his release during the free agency period. As a GM, you need to fix this issue and drafting Peat gives the Rams some flexibility among their offensive line. Peat gets it done as a pass protector, but needs to work on getting to the second level in run blocking. With coaching, these issues can be improved and Peat could fill the hole that is currently taking place.
11. Minnesota Vikings- Vic Beasley- DE/OLB- Clemson:
The Vikings have spent time with Vic Beasley and linebackers coach Adam Zimmer worked with him at Clemson. Having Anthony Barr opposite of Vic Beasley is a scary thought in a Mike Zimmer defense. Beasley is one of the most pure athletic specimens in this draft. He could be selected much higher, but if teams continue to draft for need ahead of the Vikings, he could fall into GM Rick Spielman's lap. Much like last year's first-round pick Anthony Barr, Beasley is a raw athlete that can stand up as an outside linebacker within Zimmer's 4-3 base defense. The Vikings are in the nickel package for the vast majority of snaps, which means Barr and Beasley would be on the field for the majority of games. Zimmer could add another tool to his front-seven and a player like Beasley would cause many to salivate about the Vikings linebacker corps.
12. Cleveland Browns- DeVante Parker- WR- Louisville:
The Browns need to add an explosive receiver to their offense. Josh Gordon was supposed to be that guy, but he wasn't able to stay out of trouble. DeVante Parker has been eyed by the Vikings, but they can't refuse to add defensive talent. The Browns will need to add weapons in order to score points on a weekly basis. Their defense could you a nose tackle, but a player like Danny Shelton isn't available for them to pull the trigger. Parker is the best player available and the Browns will be filling a need in the process.
13. New Orleans Saints- Randy Gregory- DE/OLB- Nebraska:
The Saints need defensive help and they can start by adding more players who can get after the quarterback. Randy Gregory was considered a top-ten pick at one point of the mock draft season. The tune changed after it was announced he failed a drug test at the scouting combine. There will be a team that takes a chance on him in the top-15 picks of this draft. The Saints are in desperate need of pass rushers and with uncertainty surrounding the future of Cameron Jordan, the team needs to add as many defensive weapons as possible. Gregory has solid edge rushing capabilities and if he can keep his nose out of trouble, the sky is the limit for him.
14. Miami Dolphins- Dorial Green-Beckham- WR- Oklahoma:
The Dolphins have had Wes Welker and Greg Jennings in for visits, but both left without signing contracts. They can add an extremely raw, but talented wide receiver like Green Beckham in the middle of the first round. He has plenty of baggage, but the Dolphins are in desperate need of finding playmakers for Ryan Tannehill. He is extremely athletic and Miami could definitely use a big-bodied wide receiver with playmaking abilities.
15. San Francisco 49ers- Arik Armstead-DT- Oregon:
The 49ers are in desperate need of some young blood among their defensive line. Justin Smith hasn't ruled out retiring and Darnell Dockett isn't the youngest possible option at the position. Armstead measures in a 6'7" and is an extremely raw defensive player. He played basketball in the early years of his college career at Oregon and has the potential to develop into a freakish interior or exterior pass rusher. The team wouldn't need him immediately if Smith and Dockett stayed, which would give the coaching staff time to slowly develop his skills.
16. Houston Texans- Trae Waynes- CB- Michigan State:
The Texans resigned Kareem Jackson, but Jonathan Joseph is turning 30 years of age. You can never have enough quality cornerbacks in this league. The Texans would be selecting for value at this juncture of the draft and Waynes would have the ability to start immediately in this defensive system. Waynes' physical frame and athleticism make him one of the most attractive cornerbacks in this draft class.
17. San Diego Chargers- Melvin Gordon- RB- Wisconsin:
The Chargers are a zone blocking team, but are slowly transitioning to more power runs. This should magnify after they added guard Orlando Franklin in the free agency period. The Chargers need a running back that can play at a top-tier level. Melvin Gordon is a power runner and San Diego hasn't really had a back like this for awhile. He needs to work as a pass protector and crisp route runner, but the ceiling is high for a running back with skills like Melvin Gordon.
18. Kansas City Chiefs- La'el Collins- OG/OT- LSU:
The Chiefs have so much uncertainty among their offensive line and they could use about as much offensive line help as they could get. Kansas City addressed the wide receiver position in free agency and now need to turn their attention to finding pass protectors for quarterback Alex Smith. The Chief's need to get a run blocking guard that can make an impact off the snap. Collins has versatility and that is definitely what the Chiefs are looking for from an offensive lineman in this draft.
19. Cleveland Browns- Alvin 'Bud' Dupree- DE/OLB- Kentucky:
Bud Dupree is gaining steam as the draft approaches and I wouldn't be surprised to see him crack the top-15 or the top-10. The Browns are relatively thin at outside linebacker and are known to be working hard to improve their 'edge' pass rush. Cleveland already addressed the offensive side of the ball and now need to add an infusion to their front-seven. Dupree is a very athletic pass rusher and his run stopping abilities are extremely underrated.
20. Philadelphia Eagles- Jalen Collins- CB- LSU:
The Eagles desperately need cornerback help, and they'll have plenty of options in the mid-first round of this class. Collins has great length and speed, which translates nicely to Chip Kelly's defense. Collins is a physical defender that might struggle playing in off-man coverage. He needs some coaching to fix some of this technique formalities, but the ceiling is so high for a cornerback of Collins' caliber.
21. Cincinnati Bengals- D.J. Humphries- OT- Florida:
The Bengals are in need of offensive line depth and with Andrew Whitworth and Andre Smith entering the final years of their contracts, they need to have a contingency plan. Humphries benefited from a solid showing at the scouting combine and continues to have the chance to be selected in the first round. Humphries visited with the Bengals and this could quietly be the decision Cincinnati decides to make.
22. Pittsburgh Steelers- Landon Collins- S- Alabama:
Troy Polamalu retired and the Steelers need to find a replacement. Michael Mitchell was terribly disappointing and the Steelers need to build their defense in the backend. Without an enforcer at safety, the Steelers can't have the leader they need for their defense to be successful. This pick is great value and seems like a no brainer for Pittsburgh.
23. Detroit Lions- Todd Gurley- RB- Georgia:
You could make the case the Lions need to draft a nose tackle in this situation, but they also need a running back. Joique Bell isn't going to be their starting running back and Todd Gurley seems like a slam dunk at this pick. He may have been injured, but the ceiling is so high with a player as talented as Gurley. The Lions haven't had an explosive game-changing running back in their backfield. It is scary to think of a Detroit offense with both Calvin Johnson and Todd Gurley on the menu.
24. Arizona Cardinals- Eli Harold- OLB- Virginia:
The Cardinals have had issues covering tight ends in each of the last three seasons. Eli Harold is slowly moving up draft boards and he is a solid edge rusher. You can never have enough pass rushers, and Harold makes a nice replacement for Jon Abraham. He can be a stand-up rusher, but has enough size to put his hand on the ground in nickel downs.
25. Carolina Panthers- Breshad Perriman, WR- UCF:
The Panthers could really use some offensive line help, but they also need offensive weapons to throw the ball to. Perriman wowed scouts at the pro-day and teams are lining up to consider him in the bottom of the draft. Perriman has the raw speed that Kelvin Benjamin lacks and that's what the Panthers are seeking to stretch the field. He is quick off the snap and is able to create separation off the line of scrimmage.
26. Baltimore Ravens- Jaelen Strong- WR- Arizona State:
The Ravens lost Torrey Smith in free agency, which means they will be in the market for a wide receiver. Strong has phenomenal hands and his body control in the air is a very underrated aspect of his game. A receiver like Strong would be a perfect fit for quarterback Joe Flacco to throw to. The Ravens are in need of a matchup threat, but it depends on how they approach this in the draft.
27. Dallas Cowboys- Malcolm Brown- DT- Texas:
The Cowboys aren't known for needing a nose tackle that dominates in their defense. Dallas found that developing the front on offense benefited their team. The running backs are all off the board, so Jerry Jones will wait to address this until the middle rounds. Brown may not be the most explosive pass rusher, but he can plug up the middle of the defense. They can improve their run defense even more and upgrade at the position by selecting the best player available.
28. Denver Broncos- Owamagbe Odighizuwa- DE/OLB- UCLA:
Odighizuwa is a player that converts speed to power and is an extremely disruptive player. He is always in the backfield and his athletic skills are some of the best I've seen from a prospect. The Broncos could use him on interior blitzes, stunts, and pretty much anywhere in the front-seven. He could create havoc from any spot in their defense and is the type of player that fits the Broncos very well.

29. Indianapolis Colts- Cameron Erving- OT/OG/C- Florida State:
The Colts need to do a better job of consistently protecting Andrew Luck this season. Indianapolis made some splashes on both offense and defense in free agency and must upgrade a position of need with their first draft pick. The Colts need to find a versatile lineman like Erving who can bring physicality back to Chuck Pagano's offensive line.
30. Green Bay Packers- Marcus Peters- CB- Washington:
With all of the off-the-field concerns surrounding Marcus Peters, he has plateaued to the bottom of the first round. The Packers moved on from Tramon Williams and could use an upgrade at the cornerback position. Peters arguably could have been considered the best cornerback in this draft if it wasn't for all of his tantrums in college. Peters has the prototypical size and ability that comes with being a cornerback that translates to the NFL. He's fluid with his hips and is physically strong to handle receivers who high-point balls.
31. New Orleans Saints- Maxx Williams- TE- Minnesota:
With the Saints trading Jimmy Graham, they need to add a tight end that can be a playmaker in their offense. Look no further than Minnesota tight end Max Williams. Williams is an athletic specimen that not only has the ball skills, but the ability to effectively make plays in every part of the field. He has garnered interest from many teams in the bottom portion of the first round and Drew Brees needs to have a playmaker to throw the ball to at the tight end position.
32. New England Patriots- Eddie Goldman- DT- Florida State:
Vince Wilfork left in free agency and the team has other options that will be in contract years next season. Goldman has middle first round talent and the team simply cannot resist to add him at this juncture of the draft. Bill Belichick would be adding value, while filling a position of need. Goldman could rise on boards, but this seems likely a logical destination for him.