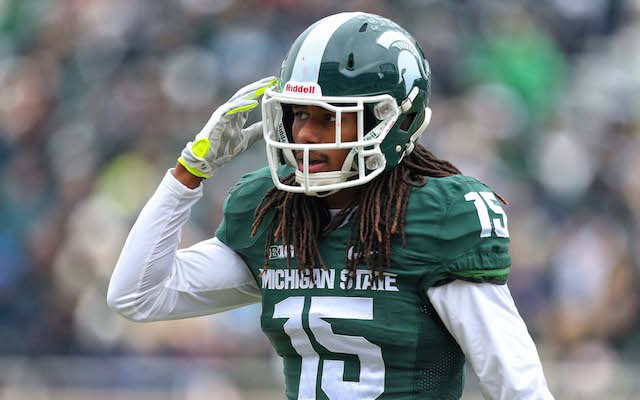 Photo Courtesy of CBS Sports
Daniel House talks about the NFL Draft and why the Vikings should strongly consider selecting Michigan State cornerback Trae Waynes.
Updated: March 22nd, 2015 6:00pm
The Vikings are narrowing their draft boards and continue to evaluate prospects as the NFL draft approaches. With that being said, they are looking for talent in areas that can allow them to draft the best player available. In some cases, teams are able to fill need while drafting a player that is top on the board. I have made it known that I see cornerback, safety, linebacker, and offensive guard as the main areas of emphasis for the Vikings this offseason. The team has met with players in all of these position categories for pre-draft interviews. I have spent time evaluating tape of prospects, while weighing the needs of this team and I'm nearing a conclusion on my best overall selection for the Vikings in the first round.
The Vikings need to build their dominance by developing a debilitating defense that can win them football games. Their front four has the talent, their linebacker corps could be upgraded, but their biggest weakness is at cornerback. Xavier Rhodes made strides under head coach Mike Zimmer and is showing that he can be an elite level player for this team. Captain Munnerlyn was added in free agency and has openly admitted he underperformed last season. However, he still can provide this team with the abilities necessary for the secondary to be successful. Josh Robinson is inconsistent and the coaches have been searching for another cornerback who can match the physicality of Rhodes.
Head coach Mike Zimmer and GM Rick Spielman attended the pro day of Michigan State cornerback Trae Waynes last week. They have continually focused on upgrading the cornerback position and have expressed interest in second-tier free agents that could help. With limited results, they need to find a cornerback that can take this defense to the next level. In a passing league, you can never have enough quality defensive backs. With the needs the Vikings have being at deep positions, they could easily address them in the middle rounds.
Waynes is an impressive athlete who is fluid in almost everything he does. He has a long and narrow frame (6'0" 186 pounds) that would allow him to perform well on the outside. His size sometimes hurts his ability to remain balanced, leading to him using his hands more than I would like to see. However, his speed, agility, and smooth footwork are all areas that help separate him from other cornerbacks. He has 4.31 speed and that alone, combined with his ability to be physical at the line of scrimmage is enough reason to be excited about how Waynes would fit in the Vikings defensive system. Waynes never missed a game in his three-year college career and is an extremely durable player. His balls skills could be improved, but Mike Zimmer is a whisperer when it comes to teaching footwork, fundamentals, technique, and balls skills. A player with the raw skills and athleticism that Waynes has can do very special things with a defensive mind like Mike Zimmer. He has some experience playing in man, but needs to improve in this category. Again, that's where the coaching comes into play and takes his game to the next level.
I like the idea of pairing Waynes with Munnerlyn and Rhodes in this defensive scheme. If the Vikings can rush the passer, defend the pass, and stop the run, they can stay off the field and allow the offense to score points. It might take some coaching to develop Waynes into a top-tier player, but if anyone can take all of his raw athleticism and mold it; that man is Mike Zimmer.
It could get interesting if the Vikings are sitting with the 11th selection and players like Amari Cooper and Vic Beasley are available. One of them could fall down the board, but as the draft approaches, I see both of these players being selected in the first ten picks. If one of those players drop, the Vikings would need to consider selecting them. In this case, they could explore the cornerback market in the second round with players like Marcus Peters or P.J. Williams. It is worth noting, that the Vikings could have more leverage if they trade Adrian Peterson and are awarded more selections. If that happens, the coaches and front office staff would definitely have more flexibility.
Much like the Vikings offseason situation, there are plenty of unanswered variables that remain to be answered, but I firmly believe cornerback Trae Waynes is worth a hard look during the draft process.