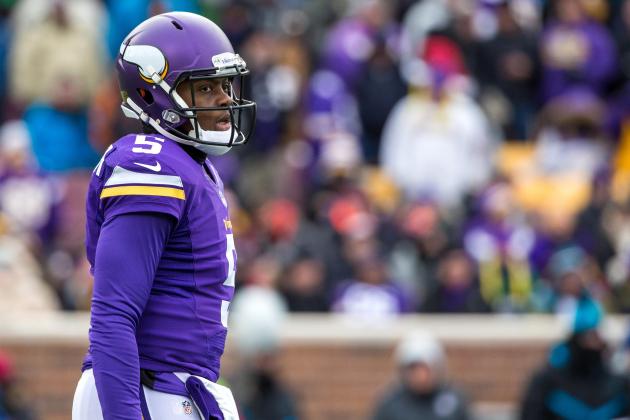 Photo Courtesy of USA Today Sports
The Vikings will be looking to build upon their recent momentum against a New York Jets team that is in absolute shambles. Daniel House previews the matchup and provides five areas of emphasis to watch for during the game.
Updated: December 6th, 2014 9:25pm
The Vikings are looking to form a winning streak during a home matchup with the New York Jets. They have a great chance to do so against a Jets team that has lost six of their last seven games. The Jets offense has been atrocious, their defense has been disappointing, and their locker room is reportedly torn to shreds. Minnesota needs to take advantage of this, while building upon all of the strides they have made over the last few weeks of play. There are plenty of story lines to follow during this game, including how the Vikings offense will play against a poor defense and more importantly, the return of Percy Harvin to Minneapolis for the first time since being traded last year. The Vikings are nearly out of playoff contention, but anything can happen in the NFL this season. A win would help catapult the Vikings one step closer to a .500 record, which would be a great accomplishment for a young group of players with a new coaching staff.
Force Geno to throw passes
The Jets offense has been in shambles and their quarterback situation has been like a Waste Management dumpster fire. Geno Smith and Mike Vick have been rotating duties frequently throughout the season and neither have been able to cut the turnovers. In fact, the coaches have eliminated the quarterback from having a role in the game plan. Last week, New York carried the ball on the ground a whopping 49 times. If the Vikings can force Geno Smith to throw the football, mistakes are sure to follow. This season, he has thrown an interception in every game but two and his inability to lead the offense has been a continued issue. Smith hasn't been able to make the reads up the field and when he has been pressured, his struggles have mightily increased. Smith is currently throwing an interception once every 23 passes in 2014 and a solid Vikings secondary needs to take advantage of this.
Stop the improved Jets running game
As I discussed, the Jets ran the ball a gargantuan 49 times last week and their running game has been their only offense as of late. Chris Johnson and Chris Ivory have spear-headed these efforts and they averaged 5.7 yards per carry against the Dolphins last week. The Vikings run defense has been leaky as of late and both Eddie Lacy and Jonathan Stewart put up solid performances over the last two weeks of play. Minnesota needs to do a better job of staying in their rushing lanes, while forcing Johnson and Ivory to stay inside the tackles. The Jets will try to wear out the Vikings front-four, but by shutting down the run early, they will place Geno Smith into opportunities to do what he does best.
Complete the passes to move the chains
Teddy Bridgewater continues to improve and he really boosted his confidence after hitting on several passes down the field last week. He is becoming more consistent in the passing game and he can build his confidence against the Jets defense. Their defense has forced just eight total takeaways this season. Bridgewater has developed a great relationship throwing the ball to Charles Johnson and Greg Jennings and if he can continue to connect on passes over 20+ yards down the field, the Minnesota offense will continue to show growth. Bridgewater is most impressive when he can get into a rhythm early and is able to complete the short passes to sustain drives. The Vikings aren't built to play from behind and they need to get out to a swift lead, while putting the foot down on the gas of the Ferrari for the entire contest.
Play turnover free football
If the Vikings can play turnover free football, they will have a great chance to knock off a Jets team that is the definition of a Brad Childress schism. They are one of the worst teams when it comes to turnover margin and it really isn't even close. New York's -12 turnover margin is the second-worst in the NFL and there is no sign of improvement coming in the near future. Even if the Jets turn to Mike Vick, they still won't improve in this statistic. The Vikings need to take care of the ball, accumulate points, and control the time of possession. These are all areas that have been much improved lately, but Minnesota can't take their opponent lightly at any point of this game.
Homecoming for Decker and Harvin
Eric Decker will be returning to TCF Bank Stadium on the University of Minnesota campus, where he spent his collegiate playing career. He hasn't saw much action because the Jets passing offense has been atrocious and he has been battling injuries. He signed with New York in the offseason and he may be regretting the decision, as he has hauled in just 531 yards and four touchdowns. Decker certainly misses an elite quarterback like Peyton Manning, but he is still a threat that the Vikings will need to keep track of in this offense.
What's more, former Vikings wide receiver Percy Harvin will be returning to Minneapolis for the first time since being traded to Seattle. It has been a bumpy road for Harvin, who spent most of last season injured with Seattle, until he was traded to the New York Jets at the early portion of this season. He's caught 19 passes and has 17 carries in five games since being dealt to New York. Harvin hasn't caught a touchdown pass in two years and his last score through the air came from Christian Ponder. He will definitely be motivated against his former team and the Vikings will need to keep tabs on where is located on the field.