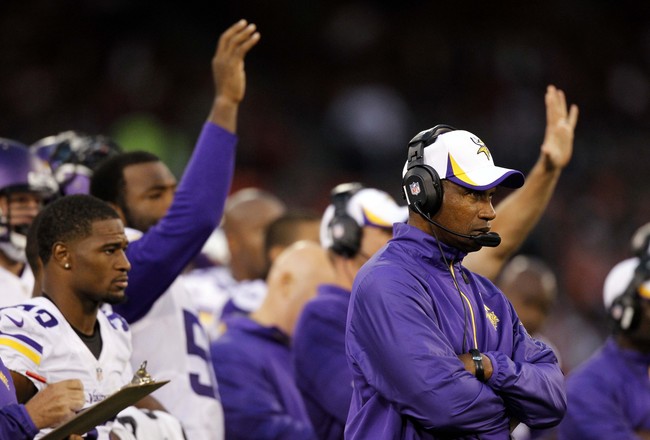 Daniel House adds his thoughts regarding the Vikings roster decisions, as they cut the roster to the final 53 players. Read about this and more in his latest post.
The Vikings made roster cuts today and in case you missed it, the following players were released during today's roster trim.
TE Colin Anderson, RB Joe Banyard, S Brandan Bishop, OL Travis Bond, CB Brandon Burton, WR Stephen Burton, DT Everett Dawkins, S Darius Eubanks, CB Bobby Felder, TE Chase Ford, OL Brandon Keith, DT Anthony McCloud, LB Tyrone McKenzie, OL Kevin Murphy, DT Spencer Nealy, DE D'Aundre Reed, WR Rodney Smith, WR Adam Thielen, DE Collins Ukwu.
The Vikings set their 53-man roster Saturday, but don't expect it to be the final one. GM's in this league always take a closer look at the waiver wire after all the roster cuts occur. As practice squads are set tomorrow and players are traded or signed, the formation of the roster may look slightly different.
The Vikings offensive line and secondary could still use help from a potential trade, free agent signing, or waiver claim.
Vikings Corner analyzes the Vikings roster in its current configuration:
Quarterbacks (3):
Christian Ponder
,
Matt Cassel
,
McLeod Bethel-Thompson
This seemed like an easy decision for this organization, but the league has a differing opinion. Many
teams are leaving two quarterbacks on the roster to open another roster spot. The Vikings couldn't give
up on the potential of MBT, who is slowly emerging as a nice developmental piece for this team. I'm
glad the team made the correct decision regarding the quarterbacks.
Running Backs (4):
Adrian Peterson
,
Toby Gerhart
,
Matt Asiata
,
Zach Line
Despite a brilliant performance from Joe Banyard who posted 116 total yards and a touchdown in
Thursday's game vs. the Titans, the team decided to part ways with a potential developmental piece. It
is hard to argue Matt Asiata's versatility and ability to run downhill, which ultimately won him a spot
on the roster. Banyard could make the practice squad, but I believe he is claimed on waivers by a team
who
has a need for a running back. Zach Line made the roster for at least three games until Jerome
Felton
returns from suspension. Line, an undrafted free agent out of SMU, defied all odds and reached
the
NFL, after an impressive preseason which included two touchdowns.
Wide Receivers (5):
Greg Jennings
,
Jerome Simpson
,
Cordarrelle Patterson
,
Jarius Wright
,
Joe Webb
This positional group confuses me the most of any roster cuts made today. Stephen Burton displayed
a great training camp and an average preseason, but made too many mistakes in the third preseason
game vs. the 49ers. Despite all of this, I liked his ability compared to Joe Webb, who was making a
position transition. The team has always liked Webb's athleticism and he could develop into a
nice goal line target this season, but that is all he has to offer. The team also released Rodney Smith
and
Adam Thielen, who were two players I felt had immense potential in this league. They both could
sneak onto the practice squad, but lost their chance as the team kept Webb, who hasn't shown me
a
nything
spectacular during his time at wide receiver.
Tight Ends (3):
Kyle Rudolph
,
John Carlson
,
Rhett Ellison
Zero surprises here, the Vikings have a great group of tight ends which could be one of the better
combinations
in the league.
Offensive Linemen (8):
Matt Kalil
,
Charlie Johnson
,
John Sullivan
,
Brandon Fusco
,
Phil Loadholt
,
Jeff Baca
,
Joe Berger
,
Troy Kropog
Seth Olsen would have made this roster, but after suffering a concussion during the final preseason
game, the team placed him on IR today. The surprising move in this group was the decision to keep
Tyler Kropog as the backup offensive tackle. Kevin Murphy hasn't impressed me, but Brandon Keith
had potential in my mind. The Vikings are still weak at the backup tackle position and could look to
sign or claim a player who was released by another team, as an insurance policy.
Defensive Linemen (9):
Brian Robison
,
Kevin Williams
,
Letroy Guion
,
Jared Allen
,
Everson Griffen
,
Sharrif Floyd
,
Fred Evans
,
Chase Baker
,
George Johnson
Chase Baker made the team due to uncertainty surrounding the health of Kevin Williams. Baker has
always displayed a nice motor and has nice developmental skills that this team could use as a backup.
His time could be short-lived if the Vikings decide to sign or trade for a cornerback or offensive
lineman
in the coming days. My big surprise was that George Johnson defeated D'Aundre Reed, who
was drafted by the team in 2011. Johnson is a nice project for Coach Daly, as he needs work in the
footwork category, but can be groomed into a nice pass rusher. Reed failed to separate himself in
the three seasons he was in Minnesota, so the team decided to head in a different direction.
Linebackers (8):
Chad Greenway
,
Erin Henderson
,
Desmond Bishop
,
Marvin Mitchell
,
Audie Cole
,
Larry Dean
,
Gerald Hodges
,
Mike Mauti
I cannot believe the team kept eight linebackers on the active 53-man roster. The two draft picks from
Penn State, Mike Mauti and Gerald Hodges impressed enough to get a shot, while Audie Cole gained
another year to prove himself. Larry Dean was my biggest question mark, but Mike Priefer most likely
lobbied for at least one special teams ace on the roster, since the team decided to parted ways with ace,
Tyrone McKenzie. Dean's time on the roster could be short because he is one player who could
be released in the event the Vikings decide to add help at cornerback or offensive tackle. I think it
seems odd the team would keep eight linebackers, which means one player will likely exit when
the team adds another signing in the coming days.
Defensive Backs (10):
Chris Cook
,
Josh Robinson
,
Xavier Rhodes
,
A.J. Jefferson
,
Marcus Sherels
,
Harrison Smith
,
Jamarca Sanford
,
Mistral Raymond
,
Andrew Sendejo
,
Robert Blanton
Bobby Felder battled until the end of the preseason to work his way onto the Vikings 53-man roster,
but fell just short.
Marcus Sherels dazzled by returning a kick for a touchdown, while adding a
defensive interception, to
conclude the preseason. I'm very surprised the team only kept five defensive
backs on the
roster, as the
normal number is 6, or even 7. Don't be surprised if this signals a potential
signing to add veteran
leadership to the secondary. As for the safeties, it seemed like reality that the
team would keep five
safeties. Sendejo worked hard in the offseason and Blanton is considered a
developmental piece for
the future, which brought the need to keep five instead of four.
Specialists (3):
Blair Walsh,
Jeff Locke,
Cullen Loeffler
No surprises with this group, especially since continuity has been established in the preseason and
training camp.
So out of the cuts, who would be ideal to make the practice squad?
Here's my dream scenario:
Travis Bond
Everett Dawkins
Adam Thielen
Rodney Smith
Bradley Randle
Brandan Bishop
Bobby Felder
Anthony McCloud
Through all of the roster cuts, I expect a few trades or signings to bolster a few areas of this team,
which includes the offensive line and secondary. We will monitor the situation and have it all for
you, including the practice squad when it is released tomorrow.