Daniel House recaps Friday's preseason game vs. Houston and provides you with his notes from the contest.
Ponder makes entrance, Cassel displays "happy-feet"
Christian Ponder entered the game for a "light" showing during the first preseason game vs. Houston. It came with two passes, one resulting in a interception on a pass tipped off Jerome Simpson's hands and into the arms of Texans safety, Shiloh Keo. The pass was thrown too far in front of Simpson, but had the chance to be caught. The previous pass was thrown nicely to Simpson on the outside, for a 15-yard gain. The 1st team offense was on the field for two passes and left the game for the sidelines. Yes, Ponder threw an interception, but he was missing key pieces among the offense and it is very unfair to criticize his play in this short of a stint. When asked about his play in tonight's game, we were informed about the plan for the offense going into next week.
"It was just the one series. It was the first preseason game and the younger guys needed the work," Ponder explained. "It was just two plays. I will play more in the next one and more in the one after that probably a whole half. It was an unfortunate two plays, a completion and an interception. We will learn from it and look forward to Buffalo," Ponder concluded.
Matt Cassel finished the evening 12 of 19 for 212 yards, while adding a touchdown and one interception. He displayed "happy-feet" during several moments and looked uncomfortable in the pocket. I was expecting more poise and experience from a 9-year veteran in this league. He definitely showcased backup talents and is an upgrade from that standpoint, but I don't see him challenging Ponder in any way.
Randle leads the way
Bradley Randle has been at the front of many discussions taking place on this website. In his first NFL appearance, he led the team in rushing on 3 carries for 16 yards. He broke through the hole on his first carry, for a gain of 8 yards, which moved the chains for a first down. He averaged 5.3 yards per carry and displayed speed and agility when he was awarded the edge.
*For more on Bradley and his father Lenny,
click here
*
Line takes a ride
Zach Line turned his first touch in the NFL into a 61-yard touchdown in the early stages of Friday's preseason game. Line, an undrafted free agent out of SMU, caught a short pass from Matt Cassel in the second quarter and then took off. He broke three tackles and shifted up the sidelines for his first NFL touchdown. When asked about his touchdown run, he discussed the moment being like a 'chariot' ride.
"When I came out of the backfield I saw that it was pretty wide open. I knew they were going to float over the top and that's when I saw (Stephen) Burton coming over and making a nice block for me," Line informed. "He made it nice and easy for me to get down the field. Seriously, it was like a chariot right down the sidelines until the very end," chuckled Line.
Reserve offensive lineman struggle
Offensive line reserves struggled late in Friday's contest, which resulted in two sacks of James Vandenberg, and one more was added for both Matt Cassel and McLeod Bethel-Thompson. The reserve offensive lineman entered the game and the Vikings struggled to move the ball. After watching the game again, Kevin Murphy was destroyed on several occasions and was slow getting off the ball. In addition, rookie draft-pick Travis Bond was beaten badly on his inside and outside foot several times. The following illustration narrates his evening on the offensive line.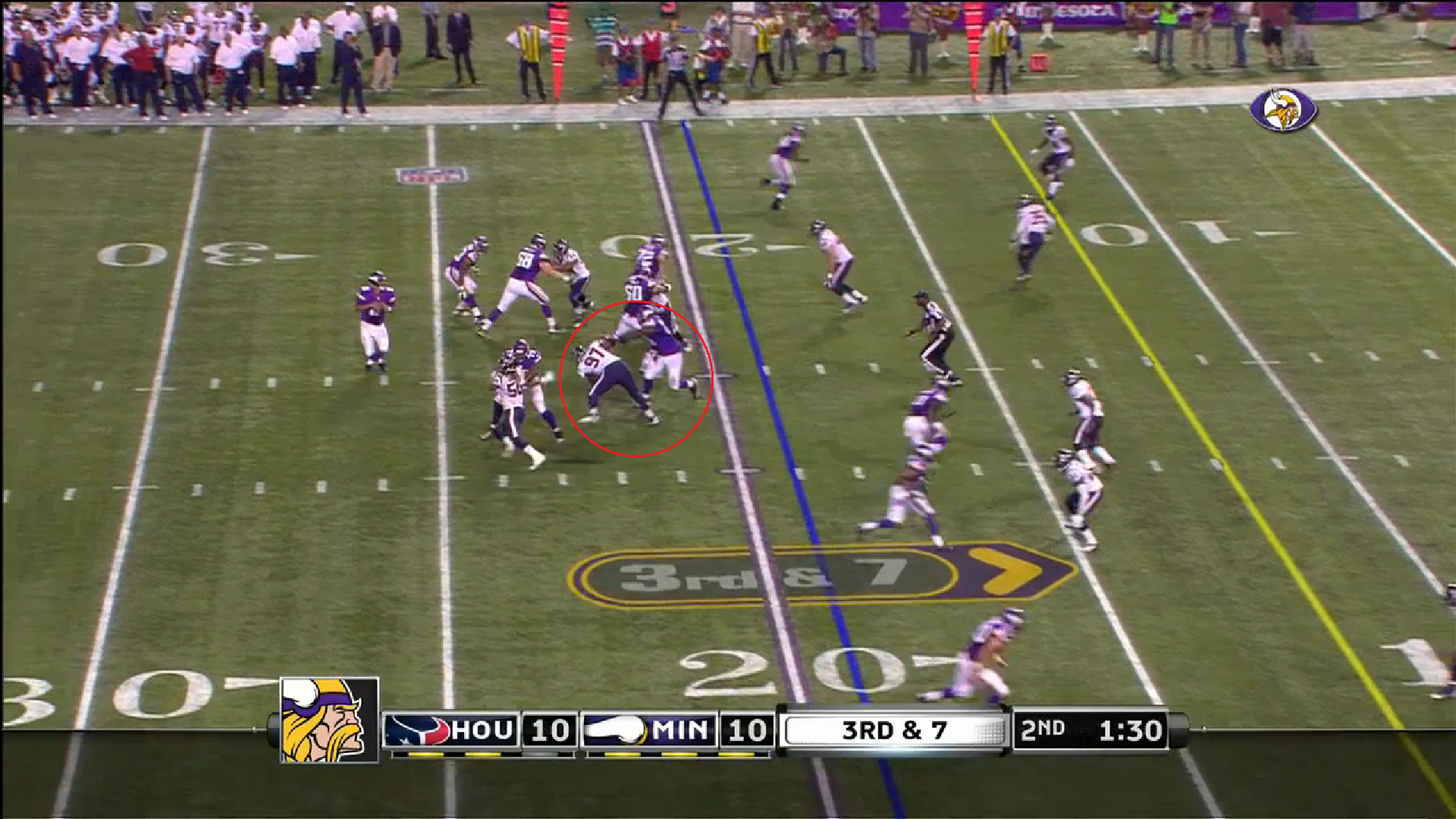 The Vikings have poor depth in the second and third tier of their offensive line, but the hope is these type of players are mere developmental pieces and will never need to be used during the season.

Stephen Burton impresses early

Stephen Burton, a 7th-round pick by the Vikings in 2011, displayed flashes on Friday night as he finished with three catches for 67 yards and a brilliant block that sealed a 61-yard Zach Line touchdown run. Burton recorded a 56-yard catch-and-run off a Cassel pass in the first quarter. Burton crossed the field, catching Cassel's pass, while cutting back to the right, making defenders miss. Burton was able to get to the Texans 18-yard line and was brought down just short of the endzone. Burton will be a player to monitor as he battles with Joe Webb for the 5th and final wide receiver spot.

Patterson electrifies the crowd

First-round draft pick Cordarrelle Patterson started the evening's festivities by recording a 50-yard return on the opening kickoff. He shifted to his right and attempted to break to the left, but he was tripped up by kicker, Randy Bullock. From the receiving avenue, he exemplified the work he has put forth during the months leading up to his first game action. Patterson recorded 54 yards on 4 receptions, but did record one drop on the evening. I was impressed with his ability to establish separation and run fluent routes. In addition, he has great hands and body control in traffic situations. He is way ahead of the curve and is progressing quicker than many of us first thought.

When asked about his progression as a route runner Patterson was very optimistic and feels he is making progress.

"I have come a long ways. I feel it. I had receivers telling me here that you have come a long ways since OTA's with your route running but you know me, personally, I feel like there is a lot more that I can do to get better. I can sink my hips down, and get out of my breaks quicker," Patterson explained.

Defensive Line full of depth

The Vikings are going to have a very tough decision to make when it comes to roster cuts among a very deep defensive line grouping. The team added veterans Lawrence Jackson and George Johnson to add experience to the middle of the defense. Christian Ballard is entering his third season and recorded a sack in Friday's contest vs. Houston. He has seen limited time in his career, but was used in a small category as a third down pass rusher. Now, with Sharrif Floyd in the mix, is there a real need for Ballard? I was really impressed with George Johnson and liked his hand placement and leverage techniques. He broke off the edge nicely and wrapped up Cierre Wood in the backfield, recording a tackle for loss. Overall, I wash very impressed with the defensive line and will analyze the way I see roster cuts shaking out with this group in a later post.

Floyd injures his knee

With 6 minutes and 55 seconds remaining in the first half, Vikings fans held their breath, as the 2013 23rd overall selection in the NFL Draft fell to the turf after a Cierre Word 2-yard carry. Floyd was tended to by trainer Eric Sugarman and minutes later walked off under his own power. He was cut from behind on a block and when asked about the injury, he stressed he 'felt fine'.

"Everything is perfectly fine, there are no problems," said Floyd.

After the morning walk-through, Coach Leslie Frazier announced Floyd woke up Sunday morning more sore than anticipated and will undergo an MRI and more tests this afternoon. Frazier wasn't concerned as of now, but said Floyd would likely miss the afternoon session of practice today.

Mauti looks comfortable in first game
Michael Mauti was impressive in his debut with the Vikings and recorded one solo tackle and collaborated on three assists. He was sound in gap containment and seemed in check with the scheme. In addition, he looked healthy and comfortable in his first action since an ACL tear during his senior season of college. The true battle begins in the middle weeks of the preseason and we will see how he handles an extended role of action.

Sherels disappoints in coverage

Marcus Sherels has been on this roster for one distinct reason, to return punts and be a special teams asset. He will never be a "shut-down" cornerback in this league. Friday night, we witnessed that in full fruition when Sherels was continually shredded in coverage. Texans quarterback T.J Yates was throwing in the direction of Sherels wherever he was aligned on the field.

I ask you this, would you rather see a player stay for special teams purposes, or in a league where coverage is a priority, keep coverage corners? I vote for coverage corners and with the way players such as Brandon Burton and Bobby Felder have proven themselves as more reliable tacklers and coverage players, it seems easy. Burton impressed me the most and has really improved in tackling and ball skills. Felder was burned on a 34-yard touchdown, in which DeAndre Hopkins made a beautiful catch on a mistimed jump. Despite all this, Felder recorded two very nice passes defensed and displayed decent ball skills.

Blanton fails to 'dazzle'

Robert Blanton was burned over the top on several passes and actually got lucky on several occasions when Texans wide receiver Lester Jean displayed "stone-hands." He looks very uncomfortable from a schematic standpoint and needs more game action to become developed. With a player such as Andrew Sendejo, who impressed in tackling and run support, Blanton will need to step up in order to have a chance at a 53-man roster spot.
Locke needs to 'find the keys'
Jeff Locke looked nervous in his first game under the bright lights of Mall of America Field. He recorded 5 punts for an average of 39.2 and he only recorded a long of 48 yards, which is unacceptable. He did place two balls inside twenty, which seems to be his specialty. If he can work out the problems in the length aspect, he will find the keys he needs before the season begins.
The Injury Report:
The Vikings inactive list for the game, included cornerbacks A.J. Jefferson (ankle), Xavier Rhodes (hamstring) and Jacob Lacey (knee); running back Adrian Peterson; linebackers Chad Greenway and Desmond Bishop (groin); center Joe Berger (personal); defensive ends Jared Allen (ankle) and Brian Robison; and defensive tackle Kevin Williams.
After Sunday's morning walk-through, we were informed Xavier Rhodes and Desmond Bishop will be returning to practice for the afternoon session. As discussed Sharrif Floyd will have an MRI on his left knee today and Frazier also announced Jacob Lacey will miss 2-4 weeks after undergoing arthroscopic knee surgery. We will have more on all of this later.