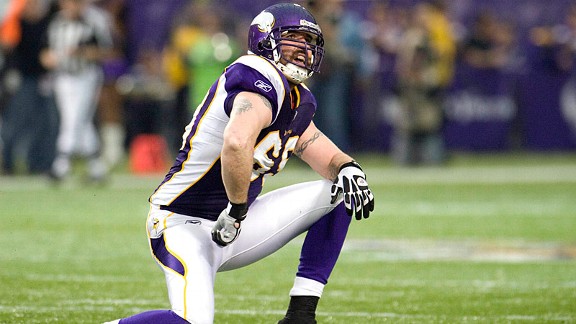 Daniel House gives his analysis of Jared Allen's 2014 contract situation and why this may be his last season in purple.
Vikings defensive end Jared Allen is in the final year of his contract, which will pay him more than $14 million during the 2013 season. The real issue is the cap hit he exhibits on the Vikings organization. With Allen having a cap number of $17 million, many believe the Vikings would ask Jared Allen to restructure to alleviate cap space. This all could be done through an extension that insures Allen would remain in Minnesota for several seasons, but Allen says this isn't option.
"You use the word restructure and that to me makes it feel like they'd want me to take a pay cut. And if anybody asked me to take a pay cut, I'd be through the first door out of there. So no. We haven't talked one iota. It is what it is," Allen said, via Dan Wiederer of the Minneapolis Star-Tribune. "And we're going to go about our business and play good ball and try to win a Super Bowl. And like I said the business stuff? We take care of that in the offseason. I have people to do that. That's why I don't get into it. You're not going to hear it from me. I won't complain. I go about my business."
Allen has the right approach and wants to focus on the task of winning a Super Bowl this season. Next offseason he will focus on his contract and will look to receive the best deal from any NFL organization. We have to respect that he isn't worried about money, but winning football games. In addition, we have to understand his reasoning about not wanting less money. He hasn't had a noticeable decline in play, but struggled with knee and shoulder injuries that both resulted in surgeries.
As for next offseason, Allen will need to take a paycut to stay on the roster. Allen (31), may be on the decline of his career and the organization make look towards another option if Allen isn't willing to settle. Everson Griffen has emerged and will be looking to improve upon last season where he recorded 9 total sacks. Brian Robison is also a free agent after the season and the Vikings will have to decide the stance and direction they have for the defensive line. Are in-house options available, or will we need to focus on this position in the 2014 NFL Draft.
Unless progress is reached, the 2014 offseason is sure to have an interesting edge and could result in one of the best defensive players in 10 years hitting the free agent market.
For now, let's focus on football and allow the contract situation to pan out after the 2013 season is over.