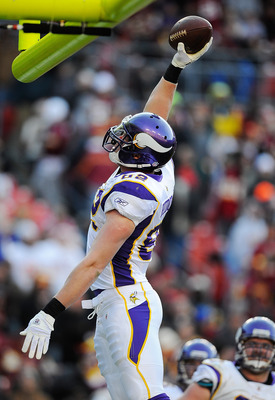 In order to be successful, the Vikings need the tight ends to
step up.

Today on Vikings Corner we will take a look at the tight end position. With Visanthe Shiancoe leaving for free agency the Vikings decided to add John Carlson to the roster. Carlson has had a few injuries problems, including a neck injury and a major concussion. He feels he is 100% healthy and that he can make an impact. I feel this a great addition to this roster. He has excellent hands, but the better asset that he brings is his ability to run block. He is an excellent down hill run blocker, which is required to open up the rushing lanes. In Seattle before his injury Carlson made a nice impact and was one of Matt Hasselback's "favorite" targets. Paired with Kyle Rudolph this duo will be deadly for defenses.
Kyle Rudolph has great size and has had shown flashes last season as a rookie. I honestly feel that he could be the next Rob Gronkowski type tight end in this league. I think the Vikings want to involve the tight ends in the offense this season. I hope they do because the good teams have a nice "one, two" tight end punch. They both have nice size, good hands, and more importantly can get open.
The third spot will be a battle between Allen Reisner and Mickey Shuler. The organization has always had faith in Shuler as a tight end. They put him on the practice squad and he was snatched by the Miami Dolphins. The same day the Dolphins released Shuler, he was back with the Vikings. I feel like he is a decent tight end, but I really like Allen Reisner. Reisner is a hard working Iowa boy, who is an excellent run blocker, but doesn't have great hands. I feel like he better fits the third spot because we already have two tight ends that can make things happen. We need the bruiser who can get down in the trenches and battle.
Last season I felt we used our tight ends very poorly. In training camp we seen so many formations featuring the tight ends. Then the game came and we never seen many tight end formations. This puzzles me because Christian really executed when he was able to roll out and hit the tight end. If we use this more, it can be a threat to other teams.
The key to be successful at this position group is for everyone to remain healthy and for the Vikings to better utilize the tight ends in certain formations. If all of this happens, the Vikings will have a definite threat in the NFC North.
Thanks for reading!