Photo: GoBearcats.com
The Vikings need to find a suitable replacement for running Jerick McKinnon. Daniel House discusses whether undrafted rookie Mike Boone has what it takes to claim the third running back job.
Updated: June 18, 2018, 1:55 p.m.
Finding and identifying talent at running back has always been a strength for the Vikings' staff. This season, they'll be developing more young players at the bottom of the depth chart.
With top running back Dalvin Cook recovering quickly from a torn ACL, Minnesota will have one of the top young players in the league returning to their offense. Cook participated in mini-camp and is reportedly set to participate in training camp. Not only that, but veteran Latavius Murray completed a healthy offseason after recovering from ankle surgery for a large portion of last year.
The real question is how the team will replace Jerick McKinnon, who signed a four-year, $36.9 million contract with the 49ers this offseason. The third down running back position will not only be an integral component of offensive coordinator John DeFilippo's offense, but it's extra critical for the team's depth late in the season. McKinnon showed how valuable a player with his unique skill-set can be in an offense. He was used in so many unique ways, especially in the passing game and red zone.
The Vikings didn't spend a draft pick on a replacement, but added two intriguing undrafted free agents.
Both Jacksonville State running back Roc Thomas and Cincinnati running back Mike Boone will likely compete for the third running back spot on the roster. Thomas is an excellent athlete with above average agility and elusiveness. He has a burst in the second level and can bounce off tackles to create additional yards after contact. Thomas will be examined closely in a future piece.
This story will take a closer look at Mike Boone, a player who has been receiving positive reviews during organized team activities and mini-camp. Boone was one of the top running backs on the Bearcats' depth chart, but injuries cast a cloud on his overall production. He sprinted for nine touchdowns and more than 650 rushing yards in each of his first two seasons, but nagging injuries held him back. It was especially the case when a foot injury cut his junior season short. Durability concerns were one of the reasons he went undrafted, despite having rare athletic traits.
Actually, it's interesting to compare Boone's workout measurements with Jerick McKinnon's. As you can see below, they are very similar in terms of speed, but differ in the agility components and leaping ability measures.
McKinnon has better testing in the short range quickness, while Boone has an advantage in the overall lower body explosiveness category. When looking at player profiles Vikings talent evaluators have valued in the past, Boone fits the mold. The coaching staff will need to elevate these traits, which is something they have shown an ability to do in the past.
On the field, you see flashes of potential when evaluating Mike Boone. He runs with a heavy amount of physicality to drive through defenders and create yards after contact. Boone does a great job of lowering his shoulder and keeping his legs moving when he faces tacklers in the second level. The run below shows off this ability as he slides through a tight crease, takes on a defender in the hole and slides through a final arm tackle to reach the end zone.
Despite having the explosive testing numbers, Boone never really showed off all of the speed and burst you would expect. Some of this has been credited to the fact Boone was battling nagging injuries for many portions of his collegiate career. By watching his film in order, you'll notice he was more dynamic and explosive as a runner early in the season. The rep below shows Boone when he's at his best as a runner. He hits the crease quickly and then uses his physical running style and balance to finish a nice rep.
In the same game, he displays what he can do when he gets in the open field and cuts back on a dime to break free for a big run. He nearly had the long touchdown run, but didn't have enough left in the tank to finish the score. This is a glimpse of what Boone can bring to the table if he stays healthy.
When Boone gets into the second level, he does a good job of cutting and staying balanced when facing contact. He isn't going to blow anyone away with his cuts or agility, but he does enough to set up his runs, while using his physicality to spark big gains. The example below shows off Boone's ability to stay on his feet and finish runs in the second level. This type of balance is beneficial, especially when he faces contact and can still find rushing lanes.
This was the case on several of his runs where he kept his feet moving and managed to stay balanced through contact/traffic. Boone is not the type of player who defenders can arm tackle in space.
The other area Boone must improve is his overall vision and decisiveness as a runner. There are times where he could redirect a run and takes on a linebacker who is squaring up in the gap. The example below is one of a few examples where this was the case.
He also sometimes doesn't hit the hole quick enough and it results in a short run. In the run below, he does a great job of finding the crease and breaking tackles in the second level. However, if he would have been more decisive, the play may have ended with a long touchdown run. Boone slightly hesitates to read the blocker on the edge before cutting inside. The lane closed quickly because of it: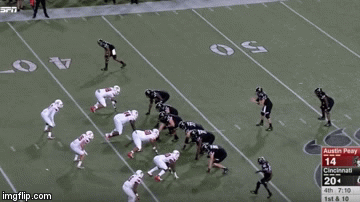 Nonetheless, sometimes he makes up for it with his ability to grind out a few additional yards after contact. If he could just feel and anticipate rushing lanes better, it would help him use many of the traits he has at his disposal.
Outside of all of the running aspects of his game, Boone has shown above average ability as a pass catcher and pass protector. There were many cases where the Cincinnati coaching staff flexed him into the slot and ran routes or set up screens. It was actually impressive how nuanced Boone was a receiver. He's tallied more than 20 receptions in each of the past two seasons and could be a threat with the ball in his hands as a receiver. The play below is just one example.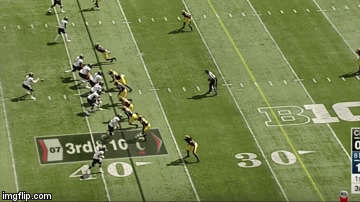 Finally, he was more than willing to help and chip in pass protection. When blitzes were coming downhill, he didn't shy away from contact and helps provide the quarterback with an extra second to deliver a pass. In the clip below, he handles the stunt up front and shoulders the defensive lineman.
Having strengths in these two areas will serve Mike Boone well as he competes for the third down running back job. If he can develop his running style and stay healthy, the Vikings might have a player they can use sporadically as a change of pace to Dalvin Cook and Latavius Murray.
The Vikings won't be able to replace Jerick McKinnon's impact, but developing someone like Boone on a similar trajectory could pay off down the road.