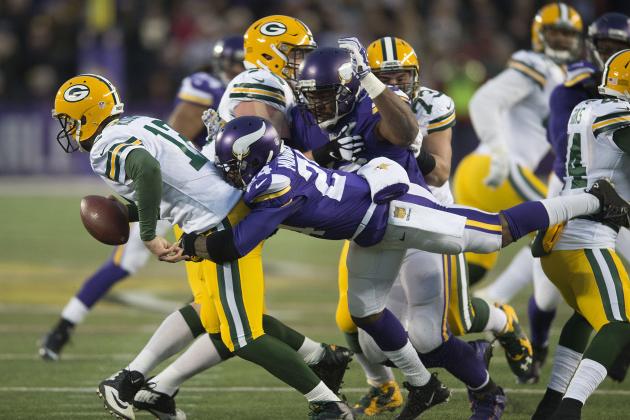 Image Courtesy of Bleacher Report
The Vikings (10-5) will travel to Green Bay (10-5) for a week 17 matchup with the Packers. The NFC North division title will be on the line as they battle it out at Lambeau Field on Sunday Night Football. Daniel House previews the Border Battle and breaks down the Packers.
Updated: January 2nd, 2015 2:05pm
The Vikings (10-5) will travel to Green Bay (10-5) for a week 17 matchup with the Packers. The NFC North division title will be on the line as they battle it out at Lambeau Field on Sunday Night Football. In week 11, the Packers traveled to Minnesota and handed the Vikings a dominating 30-13 win. Eddie Lacy rushed for 100 yards and Aaron Rodgers tossed two touchdown passes. Teddy Bridgewater was sacked six times and the Packers clearly won the battle at the line of scrimmage. However, the Vikings are playing better as the season progresses and are hot after picking up two blow-out wins over the Bears and Giants. The Packers were demoralized by the Cardinals last week and injuries have riddled their squad. 16 players were listed on their injury report and several players aren't expected to play. The winner of this game will host a home playoff game next week, while the loser will likely travel to Washington.
The Vikings need to be ready to handle the emotions of this big game and can't play tight. If they play loose and execute their gameplan, who says the Vikings can't win their first division title since 2009?
Here is my game preview:
Tackling Eddie Lacy
For some reason, Packers running back Eddie Lacy looks like Barry Sanders against the Vikings and Trent Richardson against everybody else. Sure you can discuss his all-you-can-eat Wednesday wing nights in Green Bay, but until the Vikings can stop him, it really won't matter. In the previous matchup against the Packers, Eddie Lacy rushed for 100 yards on 22 carries. In just five matchups against the Vikings, he has 114 carries, 534 yards (4.68 YPC), and five total touchdowns. Since Lacy entered the league, Aaron Rodgers (eliminating one game he missed) is 71-for-109 (65%), for 862 yards, and nine touchdowns against the Vikings. He certainly is contributing to the Packers success against Minnesota, but Lacy has been the true problem. The Vikings have to game plan to stop him this time around. In the week 11 matchup vs. Green Bay, the Vikings tackled very poorly. In order to bring down Lacy, you can't tackle him high. He will bounce off tacklers like he is in a pinball machine. A coach can game plan to stop Lacy, but then you leave yourself susceptible to Aaron Rodgers tearing you are apart through the air. At least when Rodgers is in control, the game clock isn't dwindling away. With Linval Joseph listed as doubtful, Kenrick Ellis will likely be handling some of the duties in the interior. They'll need Ellis and Sharrif Floyd to step up as Joseph is a major part of the Vikings' run defense.
As you can see in the videos below, the Vikings had trouble tackling Lacy because they were approaching him high. He was running through the tackles and bouncing off defenders for an astronomical amount of yards after contact. One of these examples shows missed tackles by Harrison Smith and Andrew Sendejo. Another is a pulling guard that blocks Barr and forces Joseph to pull off of a block.
Have to bring down Lacy without arm tackling. Sendejo and Smith whiff, but Barr makes play from opposite si...

https://t.co/eOnOr1Hr5R

— Vikings Corner (@VikingsCorner) January 2, 2016
From earlier matchup: have to stop Lacy against GB. Barr gets blocked by pulling OL, but Joseph sheds his b...

https://t.co/CGRsHPPhMq

— Vikings Corner (@VikingsCorner) January 2, 2016
The Vikings defense must tackle well and keep Lacy from running over tacklers. He is a powerful runner and in order to stop that, you have to tackle him low. He's dealing with a rib injury that has him listed as probable, but he will be playing in this game. The Vikings need to learn how to stop him because if he gets going, the Packers control the time of possession and wear down the defense.
Pressuring Rodgers and capitalizing on make-shift offensive line
The Packers offensive line has been a wreck over the last few weeks. Rodgers was sacked nine times against Arizona and injuries have depleted this group. Most of these rushes came against four man fronts. Tackle David Bakhtiari (ankle) is listed as questionable, while tackle Bryan Bulaga (ankle) is probable. With both of these players out last week, the Packers had to play Don Barclay and even shifted J.T. Tretter outside to play some tackle too. Arizona totally demoralized their offensive line and the Packers were totally out of sync. Aaron Rodgers was throwing passes away and hit the ground nine times.
In this play, the Cardinals brought Patrick Peterson on the blitz, but it didn't matter because pressure off the edge found Rodgers. His receivers weren't getting open and he held onto the ball significantly longer than usual. The Packers offensive line simply isn't talented enough to overcome this obstacle.
I've provided the example below that shows how badly the Packers offensive front was losing 1-on-1 matchups.
— Vikings Corner (@VikingsCorner) January 2, 2016
It's hard to believe the Vikings won't blitz Rodgers more and play press coverage against the Packers wide receivers. They've already shown they have trouble getting open. By taking this approach, the Vikings would be able to take advantage of the Packers struggling offensive line. However if they can't, Aaron Rodgers is ridiculous when he has time to extend plays. In week 11, he proved this again. The Vikings allowed far too much time for Rodgers to find his receivers up the field. Rodgers snuck out of the pocket to make the tough throws on third down. Minnesota only sacked him twice and the Packers offensive line kept Rodgers upright. When that happens, Green Bay is a totally different team.

Feed Peterson, find McKinnon in the passing game
The Packers limited Adrian Peterson in the week 11 matchup at TCF Bank Stadium. Peterson had just 45 yards on 11 carries. He added one touchdown, but he struggled to get carries as the Vikings were relegated to passing the ball more as they fell behind. The offense needs to get off to a quick start and that must start by feeding Adrian Peterson and controlling the clock. Peterson has to touch the ball at least 20 times if the Vikings want a chance to win. Recently, Norv Turner has done a great job of blending Peterson and Jerick McKinnon into the gameplan. I think this should be maximized even more against the Packers. Last week, Arizona running back David Johnson had three catches for 88 yards out of the backfield. Through my eyes, McKinnon has even more athletic ability in space than Johnson. The Vikings need to isolate McKinnon in space and that starts by taking advantage of the matchup with linebacker Jake Ryan.
Check out this film from last week:
— Vikings Corner (@VikingsCorner) January 2, 2016
Pounding the ball with Peterson to set up the pass and isolating McKinnon in space are two ways the Vikings can get their offense going. They have to get into a rhythm though. In the last matchup with Green Bay, they had too many penalties and were placed in long down situations on a frequent basis. Getting an early lead is huge for this team because they aren't built to play from behind on the road against a team of Green Bay's caliber.

Protect Teddy from pressure, looking for Rudy
In week 11, the Packers had six sacks and continually pressured Teddy Bridgewater. That can't happen again. Aside from Joe Berger and Mike Harris, every other Vikings offensive lineman played poorly. Bridgewater was throwing the ball away and rarely had time to step into a clean pocket. The Packers brought a massive amount of pressure and it really busted the Vikings front. The vine below sums up the Vikings' ability to protect Bridgewater in the last matchup. T.J. Clemmings and Matt Kalil were destroyed and Brandon Fusco was put on his back.
— Vikings Corner (@VikingsCorner) January 2, 2016
As far as moving the ball through the air, the Packers listed Sam Shields as doubtful, which gives Stefon Diggs and Mike Wallace solid matchups against Damarious Randall and Quinten Rollins. They'll need to connect on the short underneath routes that get the offense in a rhythm. Then, later in the game, the offense can attack vertically up the field.
Not to mention, Kyle Rudolph should continue to be a focal point of the offense. The Packers have allowed the sixth-most touchdowns to opposing tight ends and Rudolph corralled the lone 100-yard performance Green Bay allowed this season. When watching multiple Packer games back, I've found they particularly struggle with 1-on-1 matchup threats. Tight ends can gain separation on crossing routes and picks, but really have done some damage in the seam against Green Bay.
Here's how the Vikings used Rudolph to attack Micah Hyde in week 11. Rudolph beats him off the line of scrimmage and Bridgewater places a perfect pass over the top:
Most successful play vs. GB. Challenging the 1-on-1 matchup with Rudy. They've had trouble covering mismatc...

https://t.co/j86ar8mbKn

— Vikings Corner (@VikingsCorner) January 2, 2016
Overall, the Vikings offense needs to be balanced and that starts by establishing the run and attacking with the pass in the later stages of the game.
Limit the penalties
In the earlier matchup with Green Bay, Minnesota committed eight penalties for 110 yards. Green Bay continually was awarded with way too many opportunities. The Vikings offense isn't built to play in long down situations on every drive. False start calls and holding penalties killed the Vikings offense. On the other side of the ball, the defense had far too many illegal contact and holding penalties in the secondary. The Vikings are normally a disciplined team and have to be when they play Green Bay. Against a team like the Packers, there is such little margin for error. You can't give them additional opportunities on either side of the ball. If they have that chance, they'll make you pay.
What's at stake?
With a Vikings win, they would win their first game at Lambeau Field since 2009, clinching the NFC North title, and locking up a home playoff game next week against the Seattle Seahawks. A loss likely means they would travel to Washington for a road playoff matchup with the Washington Redskins.