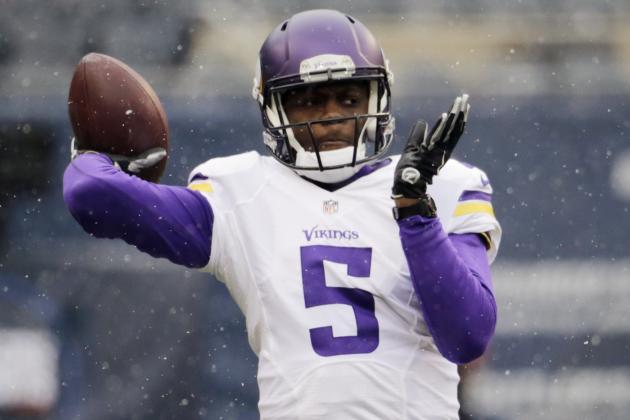 Image Courtesy of Bleacher Report
The Vikings are looking to do something they haven't done since 2007 -- win in Chicago. Daniel House previews the game and provides his keys to victory for a critical divisional matchup with the Bears.
Updated: October 31st, 2015 11:45am
It's pretty simple -- the Vikings need to win in Chicago. They haven't done this since 2007 and it's time to get the monkey off the state of Minnesota's back. It's Halloween weekend and hopefully it means this trend can be spooked out of the Vikings' mojo forever. Nonetheless, the Bears' are playing much better as of late, but are still just 2-4 overall. Minnesota is looking to stay on a roll as they try to win their third straight contest. This game is huge for a Vikings squad trying to stay competitive in an NFC North and conference playoff race that is cluttered with potential candidates. Keeping some of the Bears' weapons in check, while rattling Jay Cutler will be the key to putting this Chicago road curse to rest.
Keeping Matt Forte under control
Every time the Vikings play the Bears, they are always destroyed by check down passes in the flat to Matt Forte. In each of his last four matchups with the Vikings, he's notched at least 80+ yards rushing and 50+ yards receiving through the air. In addition, he's accumulated 100-yard rushing performances in two of those four contests against Minnesota. In other words, it's critical to keep him in check.
Jay Cutler always uses Matt Forte in third-and-long situations. With that being said, it's very important the Minnesota linebackers are on their toes. Eric Kendricks and Anthony Barr can cover plenty of ground and that certainly will help them defend a dynamic player like Forte. However, if Forte gets lose, Jay Cutler will be able to extend plays and drives, while connecting with other weapons as the offense opens up.
Covering Bennett and Jeffery through the air
Only Rob Gronkowski has been targeted more than Bears tight end Martellus Bennett. He's averaging double-digit targets in each of his last three games, but he's only reached the end zone once over that stretch. Nonetheless, the Vikings defense hasn't particularly stout when covering tight ends this season. They've surrendered scores to tight ends in three of their last five games -- the fifth-highest mark in the league. Bennett has always had a large role, but it's been maximized even more since John Fox took over as head coach. The linebackers again need to be ready to cover Bennett as he is big threat in their offense.
Finally, it might be even more important to keep an eye on wide receiver Alshon Jeffery. The officiating crew calling the game on Sunday has issued the most penalties of an crew in the league. That will make the Jeffery vs. Xavier Rhodes matchup more interesting. Rhodes has had problems with pass interference and holding calls this season. Against a big-bodied threat like Jeffery, this could be a huge factor in this game.
Putting pressure on Jay Cutler
Everybody knows how Jay Cutler handles pressure and adversity.... Well, it's important to capitalize upon his inability to handle any type of defensive pressure. Last week, the Vikings put so much pressure on Matthew Stafford. He was laying down on the Ford Field turf like a kitty in a litter box. Much of the same needs to happen with Jay Cutler this week. The difference between Stafford and Cutler is the fact that Cutler will aimlessly throw the ball up for grabs in these situations. The pressures and disguises the Vikings have been dialing up need to happen again. You hate to say it, but last year's game against Chicago at Solider Field is the perfect example of limited pressure. Cutler extended plays and it led to him finding receivers down the field. Once he does this, it isn't hard for a big-bodied receiver like Jeffery or Bennett to make a play on the ball.
Getting the passing game going early
Last week arguably might have been the best passing game Teddy Bridgewater has had during his early NFL career. He nearly set his career-high for passing yards and didn't commit any turnovers. It was the first time we saw the offense develop a level of power that was expected when we entered the season. Stefon Diggs has been a fantastic resource through the air and it's helped Bridgewater find a threat down the field. The passing distribution was fantastic last week and that's another aspect that needs to continue developing. The Bears' secondary hasn't allowed a plethora of yards, but opposing overall quarterback efficiency has been extremely high when they've played against them. Adrian Peterson needs to get things going on the ground and the passing game must complement this. If that can happen, the Vikings' offensive attack can score enough points to beat the Bears on the road.
Keeping the pocket clean for Teddy
Teddy Bridgewater was pressured too much last week and that's been a reoccurring theme this season. According to Pro Football Focus, Bridgewater faced pressure on 21 of his 39 drop backs, including four sacks. The Bears pass rush certainly is respectable and T.J. Clemmings will need to handle Chicago's best pass rusher, Pernell McPhee. McPhee left Baltimore for Chicago and has really done a great job early in 2015. He's been their main source of pressure and has been very disruptive thus far. McPhee has recorded just one sack, but the tape shows how much he is getting after the quarterback and causing disruptions every week. Keeping Bridgewater upright will be critical as the offense tries to play a clean game with a limited amount of turnovers.
WIN
in Chicago
The Vikings are 1-13 in their last 14 visits to Chicago and haven't won at Solider Field since 2007. Adrian Peterson was a
rookie
the last time Minnesota won a game in Chicago. Winning this game would bust that trend, improve the Vikings' record to 5-2, along with a 3-0 record in the division. Both of these feats would help the team as they continue their quest to earn a playoff berth this season.