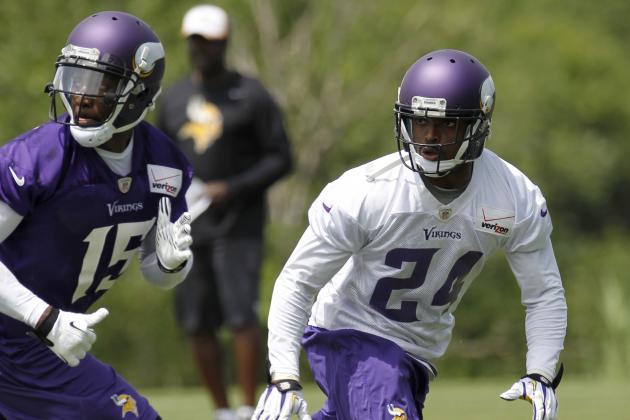 Daniel House takes a look at the Vikings cornerbacks and tells you why this group will play a huge role in how the team plays in 2014.
Updated: July 10th, 2014 12:15pm
By: Daniel House
The Vikings cornerback play over the last three seasons has been a huge reason why the defense has continually struggled. The team has failed to find consistent play from more than one or two cornerbacks and the depth just hasn't been present for this group. Head coach Mike Zimmer is looking to change this trend and alleviated part of the problem by adding free agent cornerback Captain Munnerlyn. The Vikings spent a 2013 draft pick on Xavier Rhodes and the hope is that he can build upon the consistent play he provided in his rookie season. GM Rick Spielman added two cornerbacks in free agency and drafted two more in May. Will this help the depth of this position group, while providing one player who can emerge on the outside in nickel packages? Let's take a look.
Captain Munnerlyn:
As I discussed above, Captain Munnerlyn was arguably the top Vikings free agent acquisition in 2014. Munnerlyn joins the Vikings after spending six seasons with the Carolina Panthers. Munnerlyn was a huge contribution to the Panthers defense last season and of his seven career interceptions, five have been taken to the end zone for touchdowns. He has also has become known as a solid tackler and missed just 3 tackles in 987 snaps last season. Munnerlyn will play on the outside in the base defensive package opposite of Xavier Rhodes. As for nickel coverage, Captain will kick inside and cover the slot duties. Munnerlyn is a talented playmaker that has NFL experience and he instantly provides an upgrade to the Vikings secondary.
Xavier Rhodes:
Rhodes was drafted last season with the thought of making an immediate impact, but he didn't see extensive time until the midway point of the 2013 campaign. During that time frame, Rhodes displayed his physical frame and ability to match up nicely with physical wide receivers. His ball skills were better than anyone anticipated and his transition to the league was rather seamless. Now he is joined by Captain Munnerlyn in the secondary and finally has a comrade to even the pass distribution in the secondary. Rhodes needs to prove he can stay healthy and be effective for a 16-game schedule in order for the Vikings to be successful in 2014.
Josh Robinson:
Josh Robinson was destroyed early in the season last year and couldn't stay on the field after being injured early in the season. He was the most targeted Vikings cornerback during this time and he seemingly couldn't stop wide receivers. Robinson was moved to the slot in his second year in the league, which was a big mistake. He struggled to keep pace with big and strong wide receivers and he was shredded regularly. In his rookie season, he played rather well on the outside in limited reps. It will be interesting to see how well he plays when Mike Zimmer places him on the outside. We have been told he has moved outside and won't see slot snaps this season. Is Josh Robinson even salvageable? Absolutely and with a talented defensive head head coach and new secondary coach Jerry Gray coaching him, the strides could be bigger than you think.
Marcus Sherels:
Sherels is seemingly always counted out, but yet he continues to provide the Vikings with stability in the event injuries strike the cornerbacks. He led the league in average as a punt returner and has been a reliable special teams option for the Vikings during his time with the team. He saw extensive time on the outside when Chris Cook and Josh Robinson were both injured in 2013. Sherels proved he has the ability to be versatile and provide top-tier special teams play, paired with marketable coverage skills. He will be the man who provides depth and is a special teams ace again in 2014.
Shaun Prater:
The Vikings claimed Shaun Prater off waivers in October of 2013 from the Philadelphia Eagles. When injuries plagued the secondary, he joined the starting rotation for the final three games last season. He is an insanely athletic, big-bodied cornerback that can play well in man coverage and create turnovers. Prater corralled an interception and a defensive touchdown in his short time with the team and it seems certain Prater can provide solid depth, while being an option to replace Josh Robinson in the event he struggles.
Derek Cox:
Last offseason, Cox was a hot commodity as a free agent and ended up heading to San Diego after a productive first four seasons in Jacksonville. He signed a four-year deal with the Chargers worth $20 million, but disappointment followed quickly when he was unproductive enough to be benched and then released at the end of the 2013 season. Cox signed a 1-year deal with the Vikings this off-season and will be battling for a roster spot as an outside cornerback. This could be his last moment to prove that San Diego was just a poor fit and he can still play well on the outside. The Chargers defense was schemed in a way Cox was forced to play slot cornerback and he admittedly has told the media this is something he wasn't comfortable playing. It will be interesting to see how he transitions to the man coverage and press schemes Mike Zimmer will implement to the Vikings secondary.
Jabari Price:
Price was drafted by the Vikings in the seventh round of the 2014 draft and will compete in the slot of this defense. He battled injuries throughout his college career, but he played all 13 games at North Carolina in 2013. Price is undersized, but has great ball skills and his technique is what separates himself from other cornerbacks. He has been working out with Cardinals Pro-Bowl cornerback Patrick Peterson this off-season and could be a dark horse to make the Vikings roster.
Kendall James:
James was drafted by the Vikings in the sixth round of the 2014 draft and will compete for one of the final spots in the Vikings secondary. He is an athletic cornerback with solid leaping abilities, along with impressive timing and instincts. James hasn't played elite competition and will need bulk up his 180 pound frame, if he wants compete with big wide receivers in the NFL.
Robert Steeples, Julian Posey:
Steeples joined the Vikings midway through the 2013 season on the practice squad and returned for this season on a futures contract. He hasn't witnessed much NFL experience and will be a long shot to make a deep cornerback group that just drafted two players at this position. As for Posey, he was signed after being waived by the Browns in mini-camp. He saw action in three games with the Browns last year and spent the majority of the season on the practice squad. He is a good sized slot cornerback and could find his way onto the practice squad with a solid training camp and preseason campaign.
As a whole, the only locks at the cornerback position are Munnerlyn, Rhodes, Sherels, and Robinson. Cox and Prater will battle for a spot and Price and James will be in a race for the final cornerback slot. The Vikings secondary is improved, but is very raw and how fast they develop will play a role in the team's success during the 2014 season.