Daniel House explains why Johnny Manziel needs to be the most coveted prize in the Minnesota Vikings 2014 draft plans.
Johnny Manziel's pro day included a President in attendance, a Drake soundtrack bumping, and well, some football too. The Texas A&M quarterback didn't just dazzle at his pro-day on Thursday, he proved he is the best quarterback in the 2014 class.
With nearly 75 officials from 30 teams in attendance, the 2012 Heisman Trophy winner was faced with high expectations. Vikings GM Rick Spielman, head coach Mike Zimmer, offensive coordinator Norv Turner and quarterbacks coach Scott Turner all made the trip to College Station to see the playmaker in action. Manziel certainly didn't disappoint in the process either.
Johnny wore camouflage shorts, his number two Nike jersey, and in a unique fashion wore shoulder pads and a helmet. This created quite the stir among the football community, but Manziel didn't put a glitch in his routine and wore the equipment he will be wearing for many Sunday's to come. Johnny Football completed 61 of 64 passes and proved his insane athletic abilities, accuracy, and superior arm strength. He showed the ability to edge outside the pocket, set his feet, and make the throws down the field with precision and accuracy. When you watch highlight tape of Johnny Manziel, you will see he continually struggled rolling to his left and setting his feet for longer throws down the left side of the field. This was a focus during his workout and with the question marks surrounding this area, he wasn't afraid to show the hard work he spent fixing this weakness. Manziel isn't afraid to work harder than anyone else to win football games. He doesn't like to lose, which fits the similar persona of new Vikings head coach Mike Zimmer. When the media asked Zimmer for his thoughts about the workout, he was rather blunt and quiet about his thoughts.
"It was a different workout," Zimmer said. "It's the first time I've ever seen it ... "This one was a little different in how it was choreographed. People like that or they don't like that, I don't know."
This could simply be a way for Mike Zimmer to ease excitement surrounding Manziel in hopes other teams don't get too excited about a player he covets.
Offensive coordinator Norv Turner sang a different tune and called Manziel a complete player following his workout Thursday.
"He was amazingly accurate," Turner said. "He showed all the things he needed to show. People who've watched a lot of tape on him are pretty familiar with what he can do. It's good to see a guy in person, though," added Turner.
He went on to discuss the importance of evaluating players in live situations.
"Here's the deal: You only get so many opportunities to evaluate a player, and to not use every single one of them makes no sense to me," Turner said. "We're going to exhaust every opportunity to evaluate a player. You get an opportunity to meet with a guy, and who knows what will come out of that? It might be something good . . . If you're allowed to do these things, it makes sense to do them," Turner concluded.
Many question Manziel's ability to be a leader and stay out of trouble, but there is no doubt he has the gifts on the field. Part of what makes Johnny Manziel an elite quarterback is his accuracy and superior ability to continue this trend when he outside the pocket. In fact, when he is forced outside the pocket, he is still able to make huge plays down the field. This ability will translate into the NFL, but he won't be able to rush for 2,169 yards in just 26 games like he did in college. His durability has come into question, but you cannot deny the toughness of this individual. He played the vast majority of last season with a hand injury and it didn't slow him down one bit.
Here is a chart from ESPN Stats and Info to further support his accuracy.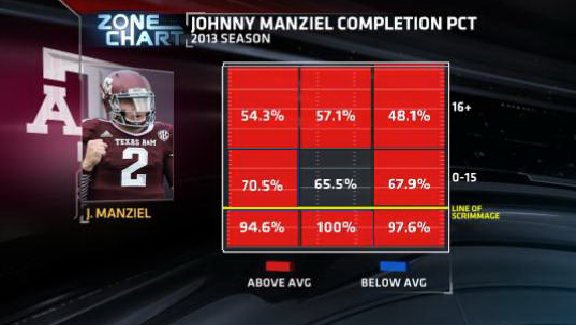 To add, Johnny Football has spent two seasons at Texas A&M and has played in the SEC, which is one of the most superior defensive conferences in college football. Furthermore, the college rushing statistics of multiple dual-threat NFL quarterbacks in college don't stack up with Johnny Football's (excluding Colin Kapernick). As I discussed, he did this while playing in one of the toughest football conferences in the league, which possesses talented linebackers such as C.J. Mosley and Lamin Barrow. Not only are his tangibles on par with some of the best quarterbacks to enter the NFL in recent seasons, his instincts are some of the best you will see. Johnny Manziel is one of the most creative playmakers in college football and he isn't afraid to make a mistake. These are the type of skills coaches cannot teach and are talents that you won't see when evaluating college quarterbacks.
He needs to improve his ability to throw check downs in the offense, while reading the defense at the line of scrimmage. Manziel wasn't allowed to call hot routes at the line of scrimmage while at Texas A&M, but he has continually embraced the chance to have this authority in the NFL. No pro-day can show how a player reads a defense, but with his superior instincts, he can do things with his body that nobody has witnessed before. With the help of coaches who can develop his football IQ and teach him some of these important skills, he can mend this issue through film study and his strong work ethic.
The draft has to go perfect for the Vikings and seven other teams will have to pass up the talents of Johnny Manziel, but there is no question the team is interested. The Vikings have been yearning for a quarterback who can lead this team with ease. Heading into a new stadium, the Vikings could make a huge splash by adding the hype and swagger Johnny Manziel will bring to the league. Many fans are leaning towards other prospects such as Teddy Bridgewater, Blake Bortles, Aaron Murray, Zach Mettenberger, or even A.J. McCarron. I argue the opinions of others by citing the playmaking ability, superior tangibles, stellar instincts, and the winning mentality Johnny Manziel has already developed.
The following are fan tweets expressing opinions about Johnny Manziel:
@VikingsCorner I have been in on #Manziel since Alabama game LAST YEAR!
— Tony Dean (MNWild) (@TonyDeanTHW) March 28, 2014
@VikingsCorner His accuracy when he is on the move is something that can't be taught. I truly believe he will be special.
— Paul Warren (@BeLikeVike) March 27, 2014
@VikingsCorner His leadership isn't what worries me. His ability to stay healthy is my first concern and running an offense is # 2
— Kevin Ednie (@kevinednie) March 27, 2014
There are other opinions surrounding the draft and many are in favor of other prospects for various reasonings.
@VikingsCorner My ideal is Teddy at 8, then Shazier.
— Ryan Boser (@Ryan_Boser) March 27, 2014
@VikingsCorner Bridgewater he is smart, makes his pre-snap adjustments, and goes through his progressions. Also great against the blitz!
— Jason Snifeld (@JSnifeld) March 26, 2014
Vikings fans have their own thoughts about the quarterback position in this draft, but without any doubt, I firmly believe Johnny Manziel is the best player for this team. He has a winning personality, all the tangibles, and with some work in film study, his instincts and ceiling are too much to pass up. If he is available at 8 (a big if), the Vikings won't hesitate to make this pick. I wouldn't even be surprised to see Rick Spielman execute a trade to add Manziel if he really covets his abilities. A pro-day doesn't dictate a player's abilities, but this style felt very different in a way I had never witnessed before.
Watch the film and make this observation: Johnny Manziel has the skills, works harder than any player, and more importantly, knows how to win.