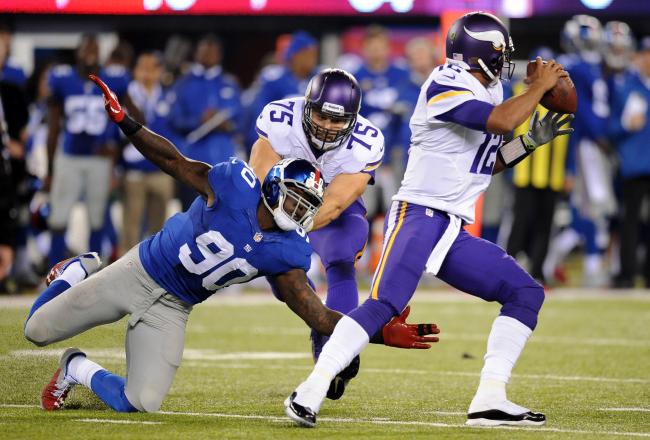 Daniel House tells it all in his latest post discussing the Vikings 23-7 debacle on Monday Night Football. He tells you why this team is falling as fast as Tom Petty's classic, Free Fallin'.
Monday night tested my perseverance and this team showed me what I thought I would see against a winless Giants team. A team unprepared for a game with a New York group that handed the game over on multiple occasions to our favorite football team. The Giants are bad and the Vikings traded blows with one of the worst teams you will see all season. I really wonder if the coaching staff has lost this team with the continued ineptitude for this team to be ready each week. Josh Freeman was ugly last night and nobody will have the nerves to admit he wasn't. He has been with this team for 12 days and the coaching staff decided to throw him into the fire, when he may not have been ready for this game. Nonetheless, receivers were open during several moments of yesterday's game and he continually placed balls in awful locations. His decision making left us with little to be desired and his accuracy has always been a problem. My real question is why the Vikings coaching staff executed the game plan with such influence of Freeman in the team's wishes. How do you put together a game plan that has Freeman throwing 53 passes when he's been with the team 10 days and hasn't played a game yet? This team has only had a quarterback throw over 50 passes 14 times in the history of the franchise ( 3-11 in these games). The Giants had been giving up 35 points per game and the offense failed to score a point. This is completely unacceptable and should not be tolerated in this business. It is clear the front office has invested the remainder of the season into evaluating talent for the 2014 season.
I'm not saying Leslie Frazier should be fired as head coach of this team, but I firmly believe the weight of some of these problems rests on the shoulders of offensive coordinator, Bill Musgrave. I have continually expressed my displeasure with Musgrave's play-calling tactics and now the time has come to fix this problem. When a 12 day old quarterback is awarded 53 opportunities and your MVP running back sees just 13 chances to carry the ball against a Giants run defense that is near the bottom of the league, changes are written on the wall. The Giants were allowing nearly five touchdowns per game entering Monday night's game and the Vikings failed to enter the end zone on offense. If Marcus Sherels hadn't returned a punt 86-yards for a touchdown, the Vikings would have blanked by a pathetic Giants defense. Think about that, zero points against the worst defense in the National Football League.
Josh Freeman was placed in a difficult situation and it is unfair to evaluate his performance in one game just ten days after he was placed in a new scheme. I'm not going to sugar coat Freeman's performance at the helm, because it was an absolute buzzkill. Pro Football Focus graded Josh Freeman's game at an -11.3, which was the lowest single-game mark the analysis group has ever given a quarterback. ESPN Stats and Info announced Freeman recorded 16 overthrown incompletions, which is the most by any quarterback in a game in the 8 years for which ESPN has kept this statistic as data. Many people are ready to blame the wide receivers after they dropped several passes in last night's game, but last time I checked, they don't have mystical powers to jump when balls are thrown five feet over their head. Freeman looked average in the pocket, but during several opportunities he avoided pressure and flailed balls into terrible locations. The Vikings have moved into the talent evaluation mode and if they really wanted to win this week, they would have waited an additional week and allowed Freeman to make his debut in front of the home crowd against the Green Bay Packers.
Leslie Frazier and Rick Spielman have quite a bit on the line right now and if they can't show some growth and willingness to turn things around, they made be hitting the unemployment market. The first move I would make at the helm of this organization is to relieve Bill Musgrave of his play calling duties and see whether the quarterback would work better in a scheme that has some order. Zigi and Mark Wilf have quite a bit invested in this team over the coming years and given the instability of this team, they have to do something before interest is lost and people aren't willing to invest money into this team anymore. A brand new stadium is in the horizon and how can the organization expect fans to kick over thousands of dollars in PSL's when the product on the field is so bad.
The Vikings will continue with Josh Freeman at the helm for the remainder of the season and the team made it very clear both the Christian Ponder and Matt Cassel experiments are over. The hope is for the Vikings to find some young players who can make an impact down the stretch for this team. I'm so disappointed that given the amount of talent this team has, that they are not being placed in a situation to win football games. As I said weeks ago, Leslie Frazier and Bill Musgrave are tied together at the hip and if they fall, they are likely going to drop into the proverbial black hole. Frazier needs to decide if he wants to fix the problem, or risk this issue from becoming chronic very, very, soon. Rick Spielman needs to start liquidating assets such as Jared Allen, Toby Gerhart, and Kevin Williams, in order to accumulate as many picks needed to bring a franchise quarterback onto this team. All I ask from this team, is to take a look in the mirror and decide whether bringing in talent will help the problem, or if this is a chronic issue among the coaching staff. We invested into three first round draft picks and they have made minimal impact, along with being placed on the field in minimal situations. That is plain as day on the shoulders of the coaching staff and there is no other way around it.
The ship set sail and it has sunk deep into the sea, but now is the time to resurrect and look forward to how this team can improve for the future. A fresh energy injection is needed in some way, or the jobs of the coaching staff and several players could be in major jeopardy.
And we're freeee, free fallin'.