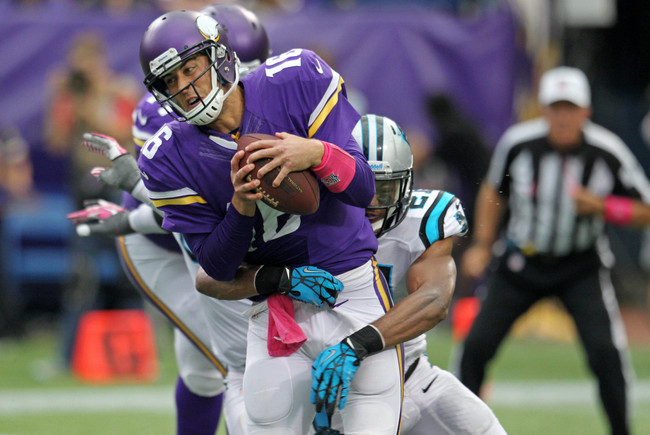 Daniel House tells you where it went wrong in yesterday's game versus the Panthers and how this team handles all the problems moving forward.
I needed an extra few hours to process this loss and comprehend the million mistakes that were made in yesterday's game. Coming off the bye week, I wanted to see emotion and energy from this team and I didn't witness it. Our defense is a wreck, the offense can't sustain drives, and this team can't win the battles at the line of scrimmage. This group has lost the edge I witnessed last year and the emotion and drive are seemingly miles away in the distance. Five areas stood out in my mind, but they all stood out like a proverbial sore thumb that needs immediate attention.
Cassel makes Vikings quarterback decision easy
As I said last week, Cassel may be merely a better game manager than Christian Ponder and that I wasn't as excited as other fans who believed he was the answer at the helm of this team. It truly showed the Steelers game was an absolute mirage and the Vikings were just slightly better than a really bad team. Matt Cassel was sitting with two interceptions, zero touchdowns and just 158 yards passing. Before completing six passes on that final drive, Cassel's passer rating was inside the 50s, until he finished with a mercy touchdown in the final minutes, which brought his passer rating to a 74.1 figure. After the game, Coach Leslie Frazier made it clear the team would evaluate the film and decide who the team would run on the field to play quarterback in New York next week. I don't see any mathematical equation that has Cassel or Ponder in the plans, meaning they should experiment with Josh Freeman at the helm over the remainder of the season. There are so many problems with this team and given the issues surrounding many areas of the roster, it is time to decide where you will go in the future. Matt Cassel wasn't the only problem, but he certainly proved through his mechanics and decision making, why he hasn't landed as a starter in this league. Overall, I don't see any way Josh Freeman won't start this week, barring a major disconnect with the playbook, which shouldn't be an issue in this system.
No defense = Major issues
The Vikings need to receive the number one pick in the draft and select an entire group of defenders to replace the current cast of characters. This secondary is one of the worst in Vikings history and their performance was completely embarrassing. Josh Robinson is playing like a fool, Chris Cook can't make plays, and Jamarca "Stone Hands" Sanford can't close on easy interceptions. In this league, you have to understand that if you can't stop the pass, you won't win games, or even compete. The pass rush was rather non existent and it provided this team zero opportunity to do anything productive. Carolina lost 22-6 to the Arizona Cardinals the week before, but the Vikings, who were coming off a bye, couldn't handle this team. It shows how that this defense is in ruins and that the outlook for the remainder of the season is extremely bleak. Our linebackers are awful and there comes a point where this team needs to hold the players accountable and make personnel decisions that could help the future. As I said continually entering this season, this linebacker group can't cover running backs in the passing game. This illustration below highlights exactly what I am talking about.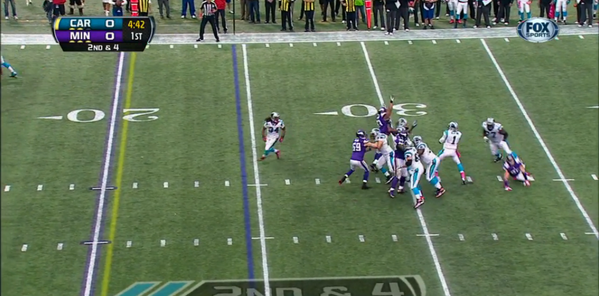 There is no linebacker within 10 yards of DeAngelo Williams as he prepares to haul in the reception from Cam Newton. Furthermore, Newton has time to think in the pocket and he can just dump the ball without any effort and the Vikings linebackers won't contest it. Looking forward to the future, this team needs to place players like Michael Mauti and Gerald Hodges into these final games as they evaluate the future of this team. At this point, what does this defense have to lose? More importantly, they can't make stops on 3rd down and get off the field in a timely manner, which also is a huge problem. On the season, the Vikings have allowed teams to convert on third down 49% of the time (31st) and on fourth down they've executed just 66.7% of the time (26th). In third down situations, the Panthers converted 58% of the time (7-for-12). On fourth down, Carolina converted 2-for-2 including a goal line touchdown. That means 64% of the time, the Panthers were able to convert in late down situations and extend the drive. This is completely unacceptable and needs to be addressed from a personnel standpoint and the coaches need to handle this situation now.
Robinson is a major liability
Josh Robinson was single-handedly destroyed yesterday and I don't know where to start anymore. After being touted as one of the fastest players entering the 2012 draft, how is he continually trailing behind receivers? Yesterday alone, he was responsible for two touchdowns and an unbelievable amount of yardage. He was scorched in a man situation as Brandon LaFell tied him to a post, en route to a 79-yard touchdown scamper. The problem is this team doesn't have the depth to get off the field and as I discussed when the team made roster cuts, I felt it was a huge liability to keep eight linebackers and just five defensive backs. It is proving itself now and I think the Vikings understand the situation they are facing in this secondary. It is time to overhaul this defensive secondary and look forward to the future of this defense. It is sad to say, but this defense has cost the Vikings this year and are one of the main reasons why they are in the current position they face.
What is wrong with the offensive line?
Last year, this group was one of the best in the league and paved the way for Adrian Peterson to nearly break the NFL rushing record. Now, this group can't pass protect and didn't help Matt Cassel's situation yesterday. In the image below, you will see Adrian Peterson take on three players as Brandon Fusco and Matt Kalil stand aimlessly.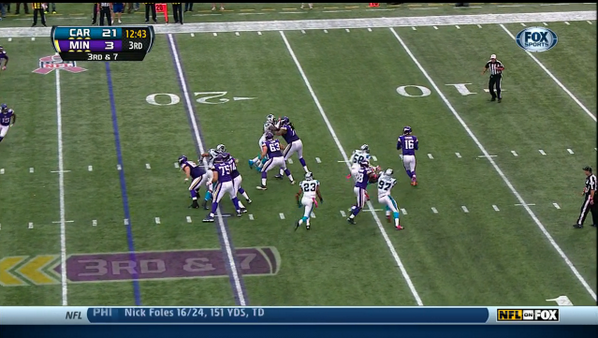 This group has been a major disappointment and hasn't been able to handle any 'exotic' schemes or blitzing. I don't see the drive or passion from this group at this point in the season and it seems as if they may be packing their bags this year. It is just another area where this Vikings team is in shambles and I'm not sure how this can be addressed. Pretty soon, jobs will be lost and players will need to show that they are worthy and capable of playing consistently well. Adrian Peterson hasn't rushed the ball well the entire season and some of this could be attributed to the anemic passing game, but if the quarterback isn't awarded a steady pocket, it doesn't matter. This game is won in the trenches and in order to win ball games this group needs to step up in a big way.
Coaching staff needs to start being accountable
Partial weight of this game needs to be placed on the shoulders of the Vikings coaching staff. This team had an ample amount of time to prepare for this game and they weren't ready. It is easy to quickly blame the players on the field, but at some point the attention needs to turn back to Leslie Frazier, Bill Musgrave, Alan Williams, and the entire group of coaches. Normally coming out of the bye week, a team comes out with more energy and are sometimes over prepared for the opponent they are facing. Under Leslie Frazier's instruction, the Vikings are 0-3 and have been outscored 108-38 the game following the bye week. This team played out of the normal from a mental and physical standpoint, which is completely unacceptable. I understand the game is played by the players, but not one person was prepared to play in yesterday's game. Bill Musgrave's vanilla offense isn't working, Alan Williams' historically bad defense is a huge problem, and Coach Frazier's management style isn't sufficient. Where were the adjustments at halftime of yesterday's game? The Vikings were in the game after the 1st half, but this coaching staff has continually proven they can't make adjustments when they face an obstacle. Leslie Frazier is a great guy, but this team needs a kick in the backside and they aren't getting that with the style of leadership that is being displayed.
This team is ripping apart at the seams and have essentially tarnished the 2013 season with four losses in the first five games of the season. Now the focus needs to be from a front office management standpoint and how this team wants to look moving forward. Begin liquidating assets, accumulate draft picks, and look forward to finding talent for the 2014 season.
The Vikings need help people, lots and lots of help.