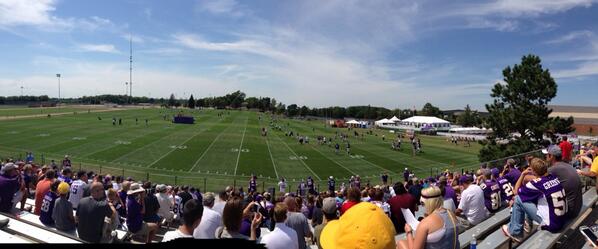 In the sixth day of practice, the Vikings participated in the best practice of 2013 training camp. Daniel House shares his thoughts in his daily notes post.
Ponder taking leaps, Cassel remains average
Christian Ponder had a great practice today, despite a slow finish to today's afternoon session. He threw an interception to Josh Robinson on a pass in which he poorly read the defense and underthrew the ball. In addition, he also waited a fraction of a second too long and had the ball deflected on it's way to wide receiver Adam Thielen. Despite all of the negatives I suggested, every single ball he threw up to that point was perfect. He was driving well, swinging his hips, and was making good decisions in the drills. All attributes he needs to establish, now he just needs more consistency each and every day.
Matt Cassel had a poor session today and was underthrowing the majority of his vertical fades up the sidelines. He terribly underthrew Rhett Ellison on a wheel route and launched the ball feet over his head. To add to all this, he waited a second too long and launched a horrid pass into double coverage, which was intended for Collin Anderson and intercepted by rookie cornerback Xavier Rhodes.
Gerhart battered and bruised
Ever since Toby Gerhart entered this league, he has always been a target for big hits in training camp. Pat Williams absolutely drilled him during his rookie season in the league and the trend has continued over the years and is still occurring today. Linebacker Larry Dean smoked him in the backfield this camp, Erin Henderson added to the mix, and Everson Griffen blew him up in the backfield during today's practice. Gerhart seems very slow this season and I wonder why he is having so many problems this year, after a great training camp campaign in 2012. Why is he always the target?
Wide Receivers are plentiful
How will we cut this group of 12 talented wide receivers this year? All players are making an impact and have the skills to be elite wide receivers. The Vikings added Greg Jennings in free agency, Patterson through the draft, and still have Jarius Wright and Jerome Simpson from last season. After this list of players, the roster cuts will get very difficult. Joe Webb has struggled during camp with consistency and is making a position transition, which could hurt his odds. Stephen Burton has been very impressive during camp and is finally extending the field by running better routes. Adam Thielen is one of my favorite players from this year's camp and could find his way on the 53-man roster. He has great size in the slot, runs beautiful routes, and has the most reliable hands I have witnessed in a long time. In addition, the Vikings brought in Chris Summers at the end of last season and he has been proving himself over the past few days of practice. Today, he recorded several nice routes and a touchdown on a Matt Cassel fade, in which he burned Brandon Burton and Darius Eubanks. My point is clear, wide receivers coach George Stewart will need to figure out the best strategy to trim this group of players and have it ready for Coach Frazier's approval.
Love suspended 4 games
Offensive tackle DeMarcus Love said he was unaware he took an illegal supplement last spring which was banned by the NFL's substance abuse policy. Love lost an appeal he filed in April and was suspended without pay for the first four games of the 2013 season for the violation. He will remain eligible to participate in preseason game and practices, but will miss the first 4 regular season games, pending he remains on the roster. Love missed all of last season after suffering a tear in pectoral muscle. He is considered a "long shot" to make the Vikings' 53-man roster this year, especially after this incident has occurred.
Robinson a bright spot in secondary
Cornerback Josh Robinson had a great day, stealing an interception off Christian Ponder in 7-on-7 drills. He later added another great play by jarring the ball out of Jerome Simpson's hands as he caught a pass from Matt Cassel on a vertical fade. If he can make a contribution, I truly could see him starting in the Vikings secondary this year. The area he must improve upon is from a vertical standpoint, which plagued him during the entire 2012 season.
Henderson misses time, but plays well
Erin Henderson briefly missed time during the afternoon practice because of a sore groin, according to coach Leslie Frazier. Henderson has been impressive in his time on the field and looked very good in coverage drills today when the coaches were testing running backs route running skills. He laid a nice hit on running back Jerodis Williams in 11 on 11 drills and blasted Toby Gerhart to the next county. He has a major chip on his shoulder after many were doubting his abilities to handle the transition to the middle of the defense.
Cole sees time with first team
During Henderson's absence, second-year linebacker Audie Cole entered for Henderson and Coach Frazier told the media he will look at the tape and see how he did at middle linebacker, to get a more firm understanding of his place on this team. He has made nice contributions on special teams this training camp and is evolving in the middle of the defense. With players such as Michael Mauti and Larry Dean battling Cole for a roster spot, he must take advantage of every opportunity he receives.
Floyd turning heads in goal-line work
Rookie defensive tackle Sharrif Floyd wrapped up running back Jerodis Williams at the line of scrimmage and later added another by corralling running back Bradley Randle for a 5 yard loss in goal-line drills. He is so light on his feet and has perfect footwork for a man with his size. Short arms aren't a problem and he has a big chip on his shoulder to succeed in his rookie season. He will contribute to this team on the goal-line and in third and long situations during many occasions this season.
Griffen is a mammoth of a man
Everson Griffen recorded a huge hit from behind on running back Toby Gerhart today and has shown his speed by beating Matt Kalil off the edge multiple times during camp. His body structure is larger this year and he has added muscle to his frame. I notice his speed, agility, and footwork coming off the edge of the defense. I continue to salivate over the thought of Griffen's potential during the 2013 campaign. I truly see him taking his statistics to the elite level in this league.
Walsh working hard early in camp
Blair Walsh was working early and often with Cullen Loeffler and new holder Jeff Locke. He recorded a 5 of 7 log in the special teams work and missed wide right from 47 and 52 yards. You definitely can see that the players are still developing continuity from a mechanical standpoint and will have all of this worked out before the season begins. Blair still managed to drain five field goals and was kicking the ball so high he was hitting the film operator on the scissor lift. Blair Walsh is only the best kicker in the league; that is all.
Stay tuned for our continued coverage, which heads over to the sidelines for live coverage and interviews, which will be brought to you throughout the next two days.