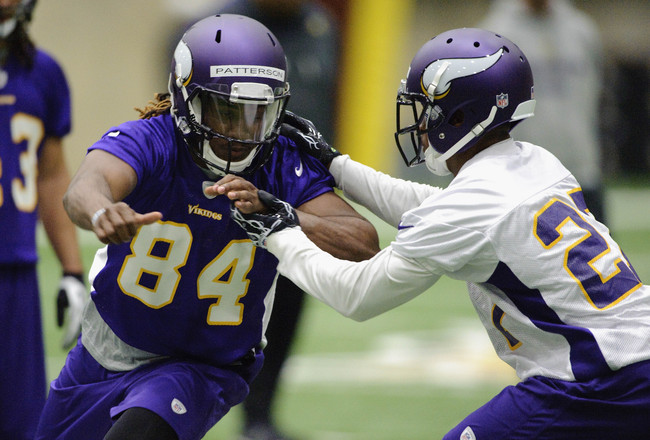 The Vikings began day 1 of OTA's and Daniel House gives you the highlights of an exciting day at Winter Park.
The Vikings kicked off the 2013 season with day 1 of OTA's at Winter Park on Tuesday. The weather forced the Vikings indoors, but didn't put a damper on the excitement inside the building. An impressive turnout occurred with all players reporting except Jared Allen; who was dealing with a family matter. Remember, no live contact is permitted during these practices and they are primarily passing drills with 7 on 7 and 11 on 11 drills.
Long touchdowns highlighted the days activities and showed the direction the Vikings are heading. Both Christian Ponder and Matt Cassel looked sharp, per Mike Wobschall of Vikings.com. Hitting everything in the short and intermediate passing drills. Ponder was connecting with Jerome Simpson and connected several times through the middle of the field. This is definitely something the Vikings are looking for from Simpson, who struggled last season with a back injury. With the addition of Greg Jennings and Cordarrelle Patterson, paired with Simpson, the Vikings may have significantly improved the wide receiving corps.
Cornerback Jacob Lacey looked impressive and showed his tangibles in 1 on 1 drills. He recorded several defensed passes and was able to nearly intercept a pass by James Vandenberg. As profiled
in a recent post
, we discussed Lacey as a potential option for the Vikings at cornerback. He will certainly be someone to watch when the Vikings head to training camp in July. Can he make the roster as a backup?
Overall, it was very nice to see full attendance at day 1 of the voluntary portion of OTA's. It shows the continuity the group is trying to develop and the mission they are trying to accomplish. Head Coach Leslie Frazier has made OTA's important and stresses the need for veterans to attend the practices. He says it is important and helps groom the rookies and prepare them for the NFL and its physicality.
This team is on the verge of huge success and with the key additions and strides we have made the offseason, it will certainly be interesting how this team plays in 2013.
We will have more coverage and will bring you highlights of each practice during OTA's.