Which defensive players will the Vikings pursue during the NFL Scouting Combine?
As addressed in our last post, we discussed the Vikings main needs heading into the 2013 offseason. Linebacker and defensive tackle were defensive areas that we discussed. Beginning today, nearly 300 college football players will look to impress the executives of the NFL. With that comes the intense grind for the Vikings personnel, who are looking to find the perfect addition to the roster. The Scouting Combine will be carried on NFL Network starting February 23-26th. For scheduling information
click here.
Who will the Vikings be watching and as fans who can we watch during the months leading up to the 2013 NFL Draft in April? Below we have broken down our top 3 prospects at Linebacker and Defensive Tackle and will soon preview our offensive needs.
Linebacker:
Alec Ogletree- ILB: University of Georgia
Height/Weight: 6'3"/232 lbs
The Scoop:
Alec Ogletree was currently a junior at Georgia, but decided to forgo his senior year of eligibility and enter the NFL Draft. Ogletree was converted to a linebacker after playing safety in high school. He is long and strong, but has had problems bringing down the ball carrier. There is room for improvement, but it is definitely can be fixed with extra work in the strength/conditioning area. He tends to hit too hard at some moments, but has the potential to be a very good run defender in this league. The more important area is in the coverage aspect, which is a strength of Ogletree's. His experience at safety has exposed him to coverage schemes, which makes him very valuable. He is athletic enough to cover a running back or tight end, bringing an element of versatility to the table. According to my research in the archives, Ogletree has had some major off-field issues. Over the past weekend, Ogletree was arrested for DUI in Arizona and hasn't had just one off-field issue. He was
arrested
as a freshman for theft, and was suspended for the first game of the season. He was also
suspended
for the first four games of 2012 for an unspecified team rule violation.
The baggage may be too much for many teams and might just scare away the Vikings. Character comes before talent and he certainly will be questioned during interview sessions at the Scouting Combine.
Draft Stock: Middle/Lower First Round
Kevin Minter- ILB: LSU
Height/Weight: 6'2"/240 lbs
The Scoop:
Minter is a great pass rusher and adjusts direction at an average rate. Watching film of Minter showed his ability to pursue quickly, but yet react in a timely way. He lacks some athleticism and this could yield him to struggle in the "gap" style of the NFL. He has proven he can cover tight ends, but could be eaten alive by the speed of the NFL. His ball skills aren't textbook, but understands zone schemes and can redirect in a timely fashion. Minter is more of a pass rushing type of linebacker, but with more experience and work with linebackers coach Mike Singletary, he could be developed into a coverage linebacker in this league. The Vikings are looking for an improvement in the coverage category and may not receive this unless the feel they can further develop Minter.
Draft Stock: Late Second/Early Third Round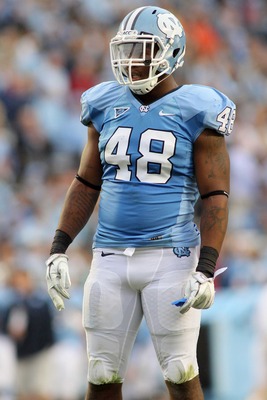 Kevin Reddick- ILB: University of North Carolina
Height/Weight: 6'3"/240 lbs

The Scoop:

Reddick is a very fast inside linebacker that seems to be missing some awareness and instincts. This can be further developed as Reddick has a great skill set and has the potential to become an elite linebacker. It won't happen immediately and will take some development, but Reddick has proven he can play inside linebacker. Reddick collected 71 tackles with six tackles for a loss, one sack and four passes defended, but no interceptions or forced fumbles. He was overshadowed and out-produced by upperclassmen Zach Brown. There were many games that Reddick did not make much of an impact. He has potential, but will need to thrive at the combine in front of the many NFL executives in attendance.
Draft Stock: Late Second/Early Third Round.



Defensive Tackle



Sharrif Floyd- DT: University of Florida

Height/Weight: 6'3"/303 lbs

The Scoop:

Floyd is by far the top defensive tackle prospect in this years draft. He is extremely quick for a player his size and dominates on run defense. With Kevin Williams contract being an issue, the Vikings may look to go in the direction of the defensive line. Floyd is a "run-stuffer," but has had problems getting to the quarterback. I have noticed his strong tendency to become caught in gap control and losing position. This is something that needs to be cleared up before he is a viable defensive tackle in the NFL. The upside is his ability to stop the run and and his athletic tangibles for a 303 pound man. I wouldn't be surprised in the least to see Floyd's stock rise as the NFL Scouting Combine concludes.

Draft Stock Middle First Round, but could rise after pre-draft workouts.


Star Lotulelei- DT: University of Utah

Height/Weight: 6'3"/320 lbs

The Scoop:
As you can see, Lotulelei is markedly larger than Sharrif Floyd and is much more athletic on my watch. He is defintely a run defender and will be a force in the middle for a team that selects him in April. The question is whether his play in college will translate to the speed of the NFL. In tape and film I have watched, I have seen a discipline problem with Lotulelei. He has had issues coming off the line of scrimmage too early or late and that has had a negative effect on the way he is rated before the Scouting Combine and pre-draft workouts. He tends to take off on some plays and doesn't display full effort on every snap. Many teams will believe they can change this through discipline during practice and in workouts. He has the abilites, but he must put the pieces together to become an all-around athletic specimen. He fits in the Vikings 3-4 scheme and he also would be a great fit in a 4-3. This gives him more flexibility and makes him more attractive to teams.
Draft Stock: High First Round/Middle First (Dependent on Scouting Combine and pre-draft evaluations)
Jonathan Hankins- DT: University of Ohio State
Height/Weight: 6'3"/320 lbs

The Scoop:
Hankins will be a bruiser and will be a perennial run defender, but he will have to become better in the conditioning aspect of the game. He has struggled staying on the field for more then two plays at a time. Will that work in a passing league that has evolved into a vast amount of no huddling? It will be discovered when Hankins hits the field for drills at the combine. He has great athleticism for his size and is great a shedding blocks. He won't fill the stat sheet with sacks, but will get to the quarterback when protection schemes falter. After watching him play against the Gophers and other Big Ten schools, he reminds me distinctley of former Vikings defensive tackle Pat Williams. Williams (6'3" 317lbs.) nearly has the same measurements as Hankins, but I forsee Hankins being a slightly larger threat in pass rush category than Pat Williams was with the Vikings. Hankins would perfectly fit into the young category and would be a huge upgrade to the center of the defensive line.
Draft Stock: Late First Round/Early to Middle Second Round.
Overall, these are the three bests options I see heading into the Scouting Combine this week. More players will emerge and I will profile the players that impress me over the pre-draft activities.
Our first mock draft will be unveiled in the coming days and will be posted on a frequent basis leading up to the draft in April.