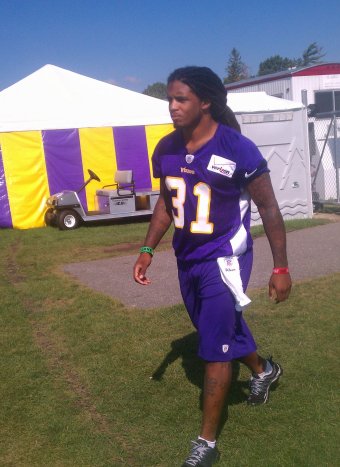 Bobby Felder continues his
mission to make the
Vikings roster.
Today on Vikings Corner we will continue analyzing under the radar Vikings players. We will analyze Bobby Felder as we continue profiling Vikings players.
Bobby Felder is an undrafted rookie out of Nicholls State and has caught the coaching staff and fans by surprise.
Bobby Felder is a big, physical press cover corner from Nicholls State University.
Felder is a very confident football player and a guy that loves to press wide receivers where they don't want to go. He is a ball-hawk and a play maker with the ball in his hands. These tangibles have made him become noticed by the coaching staff.
Felder was a four year letter winner in football and basketball for the McComb Tigers. On the gridiron he registered 76 tackles his senior season, while intercepting 12 passes in both his junior and senior seasons. On offense he accumulated 1,000 yards rushing, 675 yards receiving and 21 total touchdowns. Scout.com ranked him in the top-25 of high school football players in the state of Mississippi.
Throughout his college career at Nicholls State, he played special teams (punt and kick returns), nickel corner and outside corner. He was a playmaker and made plays when the ball was in his hands. This was an intriguing aspect for the Vikings, who need as many playermakers on the roster as possible.
Felder is a big, physical cornerback who likes to push wide receivers around at the line of scrimmage. Not only does Felder have the the ability to play cornerback, he can make an impact on special teams. We have witnessed his ability as a sharp tackler and his knack for snatching balls inside the twenty over the course of the preseason. The Vikings hope to see continued growth throughout the season in order for him to receive a roster spot. With his impressive training camp and his continued success throughout training camp, he has a great shot to make this roster on special teams.
Felder also has displayed speed, running a 4.5 40 time at the Nicholls State pro day. This was an excellent feat considering the weather conditions yielded winds upwards of 28 mph.
In addition, Felder received All-Southland Conference first team as a senior and has proven to be a disruptive cornerback.
The main issue Felder possesses is his 6-1" 200 lbs. stature, which isn't the size of a prototypical NFL cornerback. When we begin to argue the fact that "size matters," we need to take a look at the success Antoine Winfield has displayed as a small cornerback. He is one of the best physical run support cornerbacks in NFL history. In an interview with Scout.com, Felder addressed his size as a cornerback.
"I watch the majority of the corners. I like to watch Darrelle Revis. Everybody watches him because he's a great press corner who can guard any receiver in the NFL. I like to watch smaller corners. I want to be a complete corner," explained Felder.
When I met Bobby Felder at Vikings training camp, he had a very soft-spoken personality off the field. He seemed very focused on the goal of making the 53-man roster. Focus is the key to being successful on the field of play. Without focus, mistakes happen repeatedly which makes the decision very easy when roster cuts begin. Felder seems like he is on the right mental path to the NFL, but he has work ahead of him to continue his excellent performance on the field.
The work ethic he has displayed to reach the NFL, will guide him through this league. It is great to see stories of players who come from small schools and reach the big stage of the NFL. I hope with Felder's hard work and passion, he will continue his success with the Minnesota Vikings. He will certainly be a player to watch when the 53 man roster is finalized on August 31st.