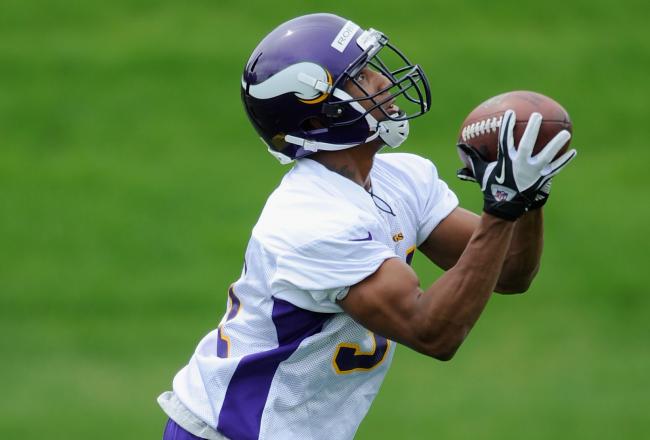 Josh Robinson's athleticism will help improve the once dismal
Vikings secondary.
Today on Vikings Corner we will take a look at the cornerback position group. This position has been a headache for the coaching staff over the past two seasons. Passing teams like Green Bay have shredded up our secondary. With the league becoming more "pass happy," it is essential to upgrade the cornerbacks.
Antoine Winfield is the veteran of this position group and will be a key piece in developing the young cornerbacks. Winfield has battled foot injuries and a broken collarbone over the past few seasons. Winfield is now 35 years old and has lost a step, but still is a great tackler and more importantly a great leader in the secondary.
Chris Cook will likely start opposite Winfield when the season begins. Cook missed last season after being charged with assault of his girlfriend, which was later acquitted. Many forget how well Cook was playing before he missed games last season. He is a nice option because he is a tall cornerback that matches up nicely with the premier wide receivers like Calvin Johnson of the Detroit Lions.
Chris Carr was brought in after playing for the Baltimore Ravens. He will be competing for the nickel spot with Josh Robinson. A battle, I feel Robinson wins because of his sheer athletic ability. Robinson ran the fastest 40 yard dash time at the Scouting Combine with a 4.29. He will be an intriguing player to watch this season. Coach Frazier wouldn't rule out the chance Robinson wins the starting job over Chris Cook. That would mean Cook and Robinson would likely switch roles. The only reason Robinson won't be a nickel cornerback is if Frazier feels he wants more experience from Robinson before he plays. That would mean Chris Carr would likely be the nickel cornerback. We will most likely have a grasp on things after training camp is completed.
Zach Bowman was brought in to add more experience to the roster. He has played in 5 NFL seasons, four of which were with the Chicago Bears. He brings in some nice depth and was average in coverage in last season. I like this signing to ultimately add depth to last season's depleted secondary.
This will be Marcus Sherel's third season with the Vikings. He primarily has been used on special teams as a return man. He really improved our punt game when he arrived on the roster. He is local kid who played for the Gophers and grew up in Rochester. I really like Sherels, but I feel like with the additions of Josh Robinson and Jarius Wright, there will be better punt return options.
Brandon Burton was a 2011 draft choice for the Vikings. I would like to see the Vikings give him more of an opportunity to play. He was an excellent cornerback at Utah and when he played in the preseason, he showed promise as a legitimate option for future seasons. The door is open for Burton, he will just have to impress the coaching staff at training camp.
It will be interesting to see the combination the coaching staff goes with at this positon. There are many options with many rookies and veterans that have great promise. Overall, this position group will be much improved over the past few seasons. The Vikings will need the cornerbacks to improve so we can keep up with the "pass first" NFC North.